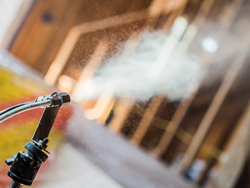 AeroBarrier is already proving to be a game-changer for the building industry.
CENTERVILLE, Ohio (PRWEB) August 27, 2018
An innovative new building technology that can quickly, and cost effectively seal the building envelope of residential, multifamily, and commercial buildings will be featured on an upcoming episode of Holmes & Holmes. Scheduled for debut the week of September 10th, episode 9 of Holmes & Holmes shows how this new approach to building envelope sealing represents a breakthrough in improving the energy efficiency and overall healthiness of new homes, while providing building contractors with a quick and cost-effective means of meeting increasingly stringent building code requirements.
The episode will first appear in the U.S. on Tuesday, September 11th on the DIY Network. Exact show dates and times may differ from region to region depending upon local scheduling, cable and satellite programing and other factors. The program will also appear in Canada later this fall, on the HGTV Network.
"This Holmes & Holmes episode will be one of the first opportunities for the general public to learn about AeroBarrier technology and actually see it in action," said Paul Springer, AeroBarrier's head of business development. "Introduced on the market only a year or so ago, the technology is already proving to be a game-changer for builders, homeowners and others interested in making high-performance homes and buildings affordable."
Developed at the University of California, Davis' Western Cooling Efficiency Center, AeroBarrier replaces the traditional labor-intensive, multi-phase approach to envelope sealing with a single-step, computer-controlled process that quickly and effectively seals the entire building envelope. Envelope tightness is a key factor in determining the energy efficiency, comfort, and indoor air quality of homes and buildings.
Holmes & Holmes is the latest program hosted by master home builder Mike Holmes, in which he, along with his son, tackles home building and renovation projects, correcting contractor errors and showing viewers best home improvement practices. In 2012, Mike Holmes was listed #3 in Forbes list of most trustworthy celebrities, following behind Morgan Freeman and Ron Howard.
To learn more about AeroBarrier Technology, visit http://www.aerobarrier.net or call (937) 428-9300. For more information on Holmes & Holmes on the DIY Network or to view previous episodes of the program, visit http://www.diynetwork.com/shows/holmes-and-holmes.