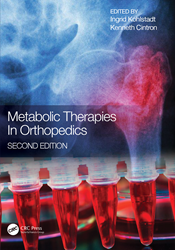 I believe wholeheartedly that as we follow the information given in this book we will revolutionize how we treat patients with musculoskeletal conditions." - Ethan Kellum, MD, sports medicine trained orthopedic surgeon, Nashville,TN
BALTIMORE (PRWEB) October 16, 2018
"Fork and knife," expresses how food, dietary supplements and emerging metabolic therapies improve recovery from orthopedic surgery. The medical approach now celebrates two firsts.
An orthopedics textbook snagged Amazon's #1 New Release in Nutrition and Alternative Medicine. Entitled Metabolic Therapies in Orthopedics this CRC Press book's 35 authors reveal new-found consensus across the table – internists and surgeons.
The unprecedented collaboration started with the book's editors, Ingrid Kohlstadt MD, MPH who is an Associate at Johns Hopkins University's Center for Human Nutrition and Kenneth Cintron MD, MBA who is Chief of Orthopedics at the Veterans Administration Hospital in San Juan. Chapters include personalizing nutrition with genetics, enhancing results of regenerative orthopedic procedures with nutrition, interpreting metabolic labs in the age of artificial intelligence, activating metabolism with laser therapy, treating sleep apnea with orthodontics, using ultrasound to guide joint injections, avoiding recent unlabeled food technologies, identifying common drug-nutrient interactions, bringing advances from veterinary medicine to human medicine, mobilizing fascial connective tissue, and using U.S. military medicine to prevent sports injuries.
Ethan Kellum, MD is a sports medicine trained orthopedic surgeon in Nashville and says, "I am ecstatically overwhelmed by the knowledge that is found within its pages. Whether you are a patient and especially if you are a caregiver for musculoskeletal injuries and condition, this book is a must read! I believe wholeheartedly that as we follow the information given in this book we will revolutionize how we treat patients with musculoskeletal conditions."
As a family physician Melissa Gamponia, MD, MPH explains, "Living in a state where the opioid crisis has reached epidemic proportions, I certainly have high recommendations for this textbook."
Dr. Kohlstadt was inspired to lead the team because the evidence for using both the fork and the knife is in. This book empowers health care providers to readily distinguish hope from hype, and engenders forward-thinking healers and adherers to "first-do-no-harm." In her opinion baseball catcher Yogi Berra summed it up. "When you come to a fork in the road [to health], take it!"
To view chapter authors bios, reviews, and more visit http://www.BetterOrthopedics.com. Clinicians who purchase and read Metabolic Therapies in Orthopedics are invited to ask the authors questions at BetterOrthopedics.com's first-of-its-kind "Ask the Author" page.
For Dr. Kohlstadt's LinkedIn profile, see https://www.linkedin.com/in/ingridkohlstadtmd/