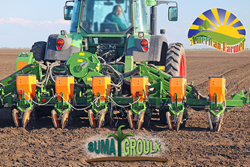 JUPITER, Fla. (PRWEB) November 16, 2018
American Farmer will focus on organic, all-natural, environmentally friendly microbial soil enhancers in an upcoming episode, scheduled to broadcast 1QTR, 2019. American Farmer airs each Tuesday at 8:30aET on RFD-TV. Check your local listings for more information.
This episode of American Farmer will focus on RRR Supply, Inc. (RRR Supply) and its SumaGroulx™ product; a sustainable, organic, all-natural, environmentally friendly, non-GMO, non-pathogenic microbial "formulation" in a base of liquid humates.
Viewers will learn how SumaGroulx™ performs on a variety of crops, in multiple soil types, increasing yield and nutrient value, while reducing and/or eliminating fertilizer.
"RRR Supply is pleased to announce our participation with American Farmer to showcase SumaGroulx," Bob Groulx, owner of RRR Supply said. "This technology has really helped me eliminate fertilizer, insecticide, pesticide, and fungicide, while enjoying better water infiltration, better water holding capacity, and has given me some outstanding yields. It has made my return on investment fantastic. It's the best product to cross my driveway in 45 years."
"SumaGroulx™ makes the soil healthier, so it works in all environments. This allows crops to reach their full genetic potential-increasing crop yields; decreasing inputs and bio remediating the soil," said Jennifer Tierney, producer for the series.
###
About:
RRR Supply is a family owned, international company, that prides itself on fast, friendly, personal service before, during ,and after the sale, with a hometown feel. Whether you need SumaGroulx, Exciter, or Climate Max Protection for your soil, or if you need the toughest, slickest liner for your truck, contact 800-547-6859 to speak with Bob and Max directly. Visit: http://www.rrrsupply.com for more information.
About American Farmer:
American Farmer is a breakthrough program on a mission to showcase the latest advancements in agriculture and farming. From seed to harvest, livestock and more, our producers have traveled the country covering the people, places and issues impacting all areas of farm country.
American Farmer airs Tuesdays at 8:30am ET on RFD-TV. Check your local listing for show times.
For more information visit http://www.AmericanFarmerTV.com or call 866.496.4065.