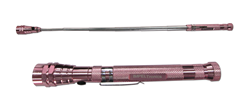 look beyond pens, coffee mugs and tee shirts
Lewisberry, PA (PRWEB) September 30, 2013
IMPEL Tronics announces New Breast Cancer Awareness Products. Almost everyone can think of two obvious reasons for Brest Cancer Awareness, and after all the catchy phrases and thought-provoking references fade, what is really needed is a serious effort to beat this deadly disease.
October is targeted across the nation to give increased focus to organizations as fund raising efforts swell, however, breast cancer doesn't care what month it is and funds are needed all year long until this fatal disease is stopped.
In the spirit of negotiations, the underlying theme throughout the process is that it is easier to get something if you give something. In that light, IMPEL Tronics offers many fundraising organizations incredible breast cancer awareness products for getting donations, providing the ability to give something for the money they receive.
If you're looking beyond pens, coffee mugs and t-shirts, this bright 3 LED Extendable Magnetic Flashlight offers a well constructed sturdy aluminum casing with a strong stainless steel clip making it the perfect fundraising product. With powerful magnets at both ends and a telescoping head that reaches from over 6" to just under 22", this is a very useful product offering everyone a handy tool.
So together, let's not only "Light the Way" but "Pink the Way" as we all join the fight against breast cancer.
Visit http://www.impeltronics.com/products/extendable-telescoping-magnetic-flashlight/.
Media Contact
Michael Pastal
717-440-1680
mpastal(at)impeltronics(dot)com