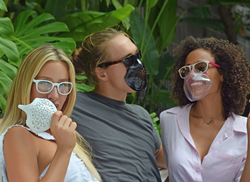 MIAMI (PRWEB) November 18, 2020
Tactika Facewear, creator of the first ever clip-on, hard-shell facemask designed to be worn with its own premium eyewear, launches its innovative product on Kickstarter and reached its funding goal within the first 24 hours. Tactika is a fully integrated Facemask and Eyewear System, the first of its kind.
Tactika is virtually touch free, with all pieces snapping seamlessly into place via a patent-pending clip on/clip-off system that utilizes 14 super-strong, ultra-light magnets.
"Like most people wearing masks, I quickly discovered how difficult it is to breathe in one, how uncomfortable they can be, how they were constantly fogging up my glasses, and how unstylish they looked", said Brent Sheldon, Tactika Founder. "To fix all these problems, we determined that the entire counter-opposing attachment system of every mask had to change. The straps had to go, and we devised an innovative, magnetic system to replace them."
Tactika's stylish design and practicality is the result of the husband and wife team of Sheldon, who has 20+ years of experience in the eyewear industry with over 100+ patents in groundbreaking eyewear technology, and fashion designer Marie- Eve Sirois, whose brand Marie-Eve, has been worn by the likes of Britney Spears. Sirois was one of the top women fashion designers in Canada but her career was put on hold when she focused on raising her family years ago.
"When the quarantine happened in March, I started working from home which allowed Marie- Eve to review my designs and the work I was doing. She completely took over the women side of the design and was the one who created the visor," said Sheldon. "After 13 years, this project refueled her passion for design and her experience in fashion became an important component of Tactika. I am incredibly happy and proud to have designed this product side by side with my wife."
Tactika offers feather weight, easy breathing, no fogging, strapless attachment, incredible comfort, changeable lenses, a visor option along with custom style and washable filters.
"Facemasks have become an everyday necessity, so why not have the most comfortable and practical version available?" said Sheldon.
Tactika Features:

Collection of interchangeable facemasks and eyewear frames designed to be worn together
Eyewear frame fitted with UV-resistant sun lenses that can be replaced with prescription lenses.
The frame can be worn with or without any or all the following magnetic attachments:

Hard-shell mask or optional clear visor that clips easily and securely onto the frame
Replaceable fabric air filter that is clipped in place by a removable grill
Various optional clip-on tinted lenses for different occasions or lighting conditions
Ergonomic pouch to carry the above components with confidence -
Main Benefits:

Washable filters
Easy breathing, no fogging
Perfect for active lifestyles
Interchangeable and versatile
Incredible comfort and great style
Extremely light
For more information about Tactika and to pre-order at discounted early-bird prices, visit the Tactika campaign page on Kickstarter. Tactika is already fully production ready and will begin delivering products in 2020.
About Tactika Facewear:
Based in Miami and Montreal, Tactika is an innovative designer of facewear, including eyeglasses, sunglasses and masks. With almost 150 patents to their name, all their products have technology at their core and are wrapped in style.
Tactika is motivated to solve the practical problems that annoy us all by deconstructing existing products that are not functioning well and redesigning them to improve their performance. They make masks that people actually want to wear, whether or not they have to.