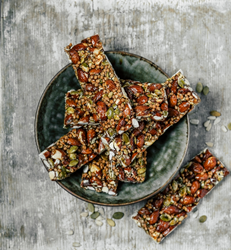 READING, Pa. (PRWEB) December 18, 2020
Brenntag is now a distributor for dry-inulin powders and Liquid Fructooligosaccharides (FOS), both of which are generally recognized and labeled as Chicory Root Fiber. The portfolio includes the following product names: Frutalose® SF75, L90, L85, OFP, SFP, and Frutafit® HD, IQ, CLR, TEX!, OAI. These products can be used in food and beverage applications including snacks, bakery goods, yogurts, ice cream, as well as fruit sauces, purees, and bars.
"Our team is excited to share our new strategic collaboration with Sensus for Inulin and FOS in the U.S. We are eager to showcase the importance of these two lines and their usage to address gut health and overall wellbeing," states Larry Davis, Vice President Brenntag Food & Nutrition North America. "As consumer demand continues to grow in this area, we're confident our applications and technical expertise, in conjunction with Sensus' leading market position, will help our customers meet this demand."
Frutalose® and Frutafit® are colorless, have a neutral taste, and can enrich many food products without affecting their appearance, texture, or flavor. Functionally, it can:

Replace sugar and fat while improving taste and mouthfeel
Promote digestive health by enriching the fiber content of food
Stimulate the production of beneficial bacteria in the colon
Stimulate calcium absorption, resulting in potentially improved bone health
"The U.S. chicory inulin market has seen rapid growth, and we are delighted to work with Brenntag's first-rate teams to reach even more customers," states Ken Horn, President and General Manager of Sensus America, Inc. "The exceptional focus and footprint Brenntag bring to our relationship will allow Sensus to keep up with the rising demand of the chicory inulin market by growing consumer preference toward healthier food ingredients."
About Brenntag Food & Nutrition:
Brenntag Food & Nutrition, part of the Brenntag Group, is a leading provider of food ingredients to the marketplaces around the globe. We built a reputation of partnering with the best suppliers of ingredients and additives and deliver right to our customers' needs and requirements. With more than 900 dedicated employees, a presence in 77 countries and 30 application and development centers, Brenntag Food & Nutrition provides technical expertise, tailor-made formulation and application solutions, a broad portfolio of specialty and commodity ingredients and profound industry know-how in the segments meat, poultry & fish processing, bakery & bread, dairy & ice cream, beverages, chocolate & confectionary, convenience food and fruit & vegetable processing. Brenntag Food & Nutrition makes its business partners "Sense the difference".
For more information, please visit http://www.brenntag.com/food-nutrition
About Sensus:
Sensus is a leading global supplier of the innovative ingredient's chicory inulin and chicory oligofructose. Besides being effective fat and sugar replacers, these prebiotic fibers contribute to a healthy microbiome, improving our health and general wellbeing. Inulin and oligofructose are dietary fibers extracted from a natural source, the chicory roots, and are verified natural according to the ISO 19657:2017 guidelines. These ingredients are the only plant-based dietary fibers that are officially recognized as prebiotics by ISAPP. Thanks to their beneficial properties, chicory inulin and oligofructose are extremely suitable for use in healthy dietary products. Sensus America Inc. is a subsidiary of Sensus B.V., which is headquartered in The Netherlands. From the head office in Lawrenceville (NJ), Sensus America Inc. coordinates the North American commercial activities. Sensus is part of Royal Cosun, a global, agro-industrial cooperative established in 1899 and an international developer, manufacturer, and supplier of natural food ingredients. We are continually inspired by our global mission to improve health, by the efforts of our colleagues worldwide, with these innovative ingredients; be inspired by inulin!
For more information, please https://www.inspiredbyinulin.com/.
Credits: The Brenntag logo is a registered trademark of Brenntag AG or its subsidiaries.
Any other trademarks are the property of their respective owners. Frutalose and Frutafit are registered trademarks of Sensus America Inc.