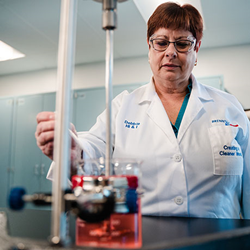 READING, Pa. (PRWEB) November 17, 2020
The HI&I Application & Development Center is the latest addition to our Technology and Innovation Hub, which also includes application centers for Food & Nutrition, Coatings & Construction, and Personal Care.
The new lab focuses on customer solutions for applications such as Surface Care, Laundry, Industrial Cleaning, Hand Care, and Vehicle Care in the United States and Canada. This facility enables Brenntag's experts to work directly with customers to supply ingredient recommendations, starting point formulas, application assistance, cost optimization, and key parameter testing. The HI&I application center is led by Debbie Winetzky who has over 25 years of industry experience formulating a variety of cleaning and laundry products. "The laboratory expansion will allow us to be more innovative in developing new formulations for many applications. I am excited about providing HI&I solutions to our sales team and customers," states the HI&I Formulation Chemist.
"We strive to be a complete solutions provider to our customers in the HI&I market," says Jeff Carey, Vice President HI&I, Brenntag North America. He adds: "Our new application center offers our customers access to a vast range of technical support. Our knowledge, combined with our world-class product portfolio and dedication to service excellence, helps our customers to stay current within the market."
About Brenntag:
Brenntag is the global market leader in chemical and ingredients distribution. We connect our suppliers and customers in value-adding partnerships. Our almost 17,500 employees provide tailor-made application, marketing and supply chain solutions. Technical and formulation support, market, industry and regulatory expertise as well as advanced digital tools are just some examples of our services that are aiming to create an excellent customer experience. Our full-line portfolio comprises specialty and industrial chemicals and ingredients of a world-class supplier base. Building on its long-standing experience, unmatched global reach and local excellence, Brenntag works closely alongside its partners to make their business more successful. We are committed to contribute towards greater sustainability in our own business and the industries we serve, and to achieve sustainable profitable growth. Headquartered in Essen (Germany) and with regional headquarters in Philadelphia, Houston and Singapore, Brenntag operates a unique global network with more than 640 locations in 77 countries. The company generated sales of EUR 12.8 billion (USD 14.4 billion) in 2019. Brenntag shares are traded at the Frankfurt Stock Exchange (BNR).
Credits: The Brenntag and ConnectingChemistry logos are registered trademarks of Brenntag AG or its subsidiaries. Any other trademarks are the property of their respective owners.