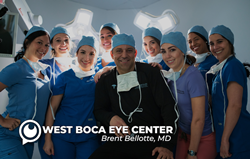 Dr. Bellotte and his team have forged a reputation that stands out from other practices, with patients recommending services such as modern cataract surgery and other cutting-edge procedures.
BOCA RATON, Fla. (PRWEB) July 30, 2019
The latest developments in technology have seen eye surgery change almost beyond recognition in recent years. Brent Bellotte MD of the West Boca Eye Center is bringing revolutionary new services to the mainstream, providing cutting edge medical, surgical, and laser techniques to easily correct a multitude of eye conditions that historically would have necessitated a lengthy stay in the hospital.
Eye health is a serious subject, and conditions such as macular degeneration, cataracts, retinal detachment, and diabetic retinopathy, to name a few, are ailments that need expert attention. In the past, eye treatment often meant choosing to undergo lengthy, painful procedures, frequently with high-risk factors, not to mention a great expense, meaning many elected to forgo such treatment. Thanks to major advances in technology and technique, virtually every kind of eye condition can be treated today by a number of fast, convenient, affordable, and virtually risk-free measures.
Introducing Dr. Brent Bellotte
The West Boca Eye Center is privileged to have Brent Bellotte MD as their owner, practicing ophthalmologist, and surgeon. This board-certified ophthalmologist brings the very latest techniques to patients at the clinic, not simply as an eye doctor, but as an industry-leading eye surgeon. Highly respected by his peers, Bellotte already has a string of honors and awards to his name. These include the coveted Grand Rounds Presentation Award from Texas Tech University Department of Ophthalmology and Visual Sciences and the prestigious chief designation of his residency program. While studying at the West Virginia University School of Medicine he was bestowed the Award of Excellence for outstanding class rank, the acclaimed Peggy Preston Tertiary Scholarship, the Hurlbutt Memorial Endowment, and was awarded the Spurlock Fellowship for work sequencing retroviral DNA.
More recently he was chosen for the Castle Connolly American Top Doctor award in 2016 and 2019 and the Patient's Choice Award. He also served as a founding father for the Eye Physicians of Florida Ophthalmology Mega Group and served as a consulting member of the advisory board for Blue Cross Blue Shield.
Ethical, Compassionate, And Convenient
The key to the latest in safe treatment of all eye conditions, including the new modern, laser cataract surgery, laser vision correction, and routine eye care, is the caliber of the doctor who provides it. It's crucial to ensure that the person entrusted with such a critical element of health is not only up to date with knowledge of the very latest techniques and scientific research but also has the ability to communicate information to their patients in easy to understand terms. Only when an individual has full knowledge of their condition are they able to make informed choices about treatment. Dr. Bellotte was mentored by some of the most ethical and compassionate physicians in the industry, and this is reflected in the high standard of skill and care with which all his patients are treated.
In addition, he ensures all options are discussed in full regarding the treatment of individual conditions. He goes over the pros and cons of each medical, laser, and surgical treatment, and provides the least invasive solution. The West Boca Eye Center recognizes that patients have busy lives and they will always try to accommodate appointment requests whenever possible.
Exemplary Customer Care
The West Boca Eye Center and Brent Bellotte, MD have received almost 400 independent reviews on Google and have an unblemished 5-star rating. Such reviews further demonstrate how Dr. Bellotte and his team have forged a reputation that stands out from other practices, with patients recommending services such as modern cataract surgery and other cutting-edge procedures.
Recent reviews from recipients who underwent cataract surgery at the center speak very highly of Dr. Belotte:
"I just want to say how much of a great experience I had with Dr. Bellotte and his crew. The cataract surgery operation went very well because of Dr. B and his bedside manner, and his experience as a doctor is excellent and untouchable. I will definitely give him to everyone as a reference. Thank you, Dr."
"Dr. Brent Bellotte performed cataract surgery on both of my eyes which restored my vision beyond my greatest expectations. For the first time in 5 years, I am seeing the world as it really appears. Dr. Bellotte is kind and compassionate as are all of his staff (office & surgical nurses & technicians). They are always available to answer questions, assist and help with any fears. Thank you Dr. Bellotte for giving me my sight back!"
The West Boca Eye Center offers treatment and advice on all types of eye conditions. From routine eye exams to the latest in cataract surgery, systemic diseases and effects on the eyes, laser vision correction, eyelid surgery, diabetic eye disorders, glaucoma, retinal injuries, macular degeneration, and emergency eye care, Dr. Brent Bellotte and his team work with their patients to bring the most effective, safe, and convenient treatments. West Boca Eye Center's goal is to ensure the highest quality of sight by utilizing the very latest techniques available to their patients. For more information please visit: https://westbocaeyecenter.com/