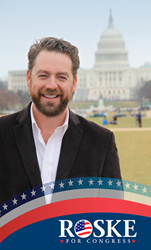 The true art form of Congress is the music of compromise. - Brent Roske in Huffington Post
Malibu, CA (PRWEB) August 05, 2013
Congressional candidate (CA-33) and Emmy nominee Brent Roske will be officially announcing his candidacy on Friday, August 9th at 11 am at Creative Visions in Malibu, CA. The Independent candidate is running against 39-year incumbent Rep. Henry Waxman. Roske will be joined by cast members of his series 'Chasing The Hill' and other members of the entertainment industry. While Roske is running mainly to create bi-partisan bridges in Congress, his extensive background in the entertainment industry makes the serious issue of runaway production of vital importance to him.
Roske explains: "I've worked in the entertainment industry for 15 years and in that time have seen first hand the damaging drop-off in filming right here in LA. Los Angeles is still called the Entertainment Capitol of the World, but in order to keep that title we're going to have to fight for it. What's needed is putting the pressure on and getting creative with local and state legislators to find ways to incentivize producers into shooting here. The first step is to match and even beat what states like New York or Louisiana are doing. My next step would be to facilitate the tools needed to tilt the decision so Producers have a financial leg to stand on when meeting with their financiers." Read Roske's article in Huffington Post 'The Art of Congressional Compromise'.
Ed Gutentag, Director/Producer/Cinematographer and founder of ShootMoviesInCalifornia.com, is hosting the event along with Save LA Film and Creative Visions. Mr. Gutentag will be filming 120 PSAs that day, starring above and below the line talent, each speaking directly to a sitting California State Senator or Assembly member with their different reasons on why to keep production in California.
Gutentag notes, "I've become an 'accidental' activist and I won't stop until Sacramento changes the incentives in our great state. Producers, Directors, Actors and crews would greatly prefer to shoot in California and sleep in their own beds. I won't stop until things turn around."
Jason Gurvitz, who is the founder of 'Save LA Film,' adds, "As most of the state's filmmakers are based in Los Angeles, solving legislative issues at the city level to encourage more production will pave the way toward statewide tax-incentive legislation. Mayor Garcetti is firmly committed to this issue as well, which is why Brent Roske and I serve on his Independent Producer's Task Force. I believe if we can build a citywide movement it will give the mayor the support he needs to implement change."
Congressional candidate Brent Roske has spent the last few years writing, directing and producing the well-received popular political scripted drama 'Chasing The Hill', which is Co-Executive Produced by Emmy winner Richard Schiff ('West Wing'). 'Chasing The Hill' stars Robin Weigert ('Deadwood'), Melissa Fitzgerald ('West Wing') and Matthew Del Negro ('Mistresses'). The series also features Politicians such as, VA Gubernatorial candidate Terry McAuliffe, Gov. Gray Davis, Gov. Ed Rendell, Political Consultant Ian Alberg and Journalists MSNBC's Lawrence O'Donnell and ABC's Rick Klein. The series was recently nominated for a Webby Award for Best Drama.
Roske will be introduced by Actress Melissa Fitzgerald who was a series regular on 'The West Wing' and 'Chasing The Hill'.
Melissa Fitzgerald says of Roske, "Brent's commitment to getting Republicans and Democrats to work together is unwavering. It is the reason he created the series; 'Chasing The Hill' and it is the reason he has decided to run for Congress. Brent is an unstoppable force and his willingness to use his time and his considerable talents to get in the game and serve is truly inspiring. If Brent Roske's campaign for US Congress can shed light on the need for both parties to come together and get to work on behalf of the American people, we all win!"
Roske explains that, "I thought making 'Chasing The Hill' would get politics out of my system but that is definitely not the case. My experience has been that after the many meetings I've had and continue to have with current and former elected officials, I'm now more than ever convinced that the biggest problem in government is the constant and seemingly never ending partisan fighting. There are two Independent Senators but none in the House and that needs to change. I am totally confident that if I am elected, I will help facilitate the ending of this damaging partisanship and of equal importance to me; to once and for all stop runaway production and bring production back to Los Angeles where it rightly belongs."
WHO: Emmy nominee Brent Roske officially announces his candidacy for US Congress, CA-33
WHEN: Friday, August 9th at 11am. Light refreshments will be served.
WHERE: Creative Visions in Malibu, CA
18820 Pacific Coast Hwy, Malibu, CA 90265 (Oceanside deck/gallery above American Apparel)
LINKS: RoskeForCongress.com