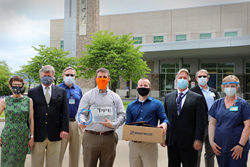 We wanted to protect those working to keep us safe and healthy, particularly in the communities where we live and operate.
READING, Pa. (PRWEB) June 18, 2020
Brentwood is proudly partnering with numerous hospitals to supply critical personal protection equipment as the COVID-19 pandemic continues. In the last few weeks, Brentwood has donated 14,000 reusable face shields to protect healthcare and essential workers in the locales where it operates.
Five thousand face shields were donated to Penn State Health St. Joseph, in Reading, PA; 3,000 were given to the Lebanon VA Medical Center in Lebanon, PA; 3,000 went to the Martinsburg VA Medical Center in Martinsburg, WV; and 3,000 were provided to Wadley Regional Medical Center in Hope, AR, and Texarkana, TX.
Brentwood ensured that a company representative was on site to personally present the face shields to the above-mentioned organizations.
"We wanted to protect those working to keep us safe and healthy, particularly in the communities where we live and operate," said Brentwood President, Peter Rye. "We reached out to many organizations to see where the greatest need was, and we were happy to jump in and help."
When COVID-19 took hold in the U.S. several months ago, Brentwood assessed its capabilities and decided to develop the reusable face shield product.
"Our facilities were already equipped to form medical packaging and injection molded components," said Walter Banta, Brentwood's Senior Director of Operations, "so developing a face shield was an easy decision."
The face shield design and tooling were completed within weeks, enabling Brentwood to ramp up production in its Reading, PA, facilities. These include an ISO Class 7 cleanroom and a state-of-the-art injection molding facility.
In April, the company received official authorization from the U.S. Food & Drug Administration to supply its face shields specifically to healthcare workers fighting COVID-19. This approval falls within the Emergency Use Authorization (EUA) guidelines.
Brentwood's face shields will also protect non-healthcare essential workers, tasked with keeping grocery stores, warehouses, and other critical processes operational during this difficult time. They are available for order here: https://www.brentwood-medical.com/face-shields/.
About Brentwood:
Brentwood Industries, Inc., is a family-owned, family-run business, operating in the U.S., India, Thailand, Mexico, and the Czech Republic. For over 50 years, Brentwood has applied plastic technologies to solve unique customer challenges and fostered a culture of innovation, entrepreneurship, and sustainability. Today, Brentwood is an industry leader in the development, engineering, and production of plastic solutions for cooling tower, medical, water treatment, transportation, stormwater management, construction, and battery applications.
In the medical sector, Brentwood is a leading manufacturer of custom thermoformed and injection molded solutions for device packaging, trays, components, and housings for imaging and diagnostic equipment. The company's two state-of-the-art ISO Class 7 cleanrooms are equipped with the latest technologies and certified to ISO 9001 quality standards. With vast design knowledge, forming capabilities, and materials expertise, Brentwood produces functional and aesthetic parts that provide sustainable solutions for end-procedure efficiency.