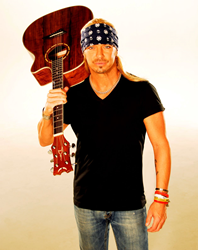 Go Wheels Up! Texas is a high-energy, family-friendly celebration of music, airplanes, exotic automobiles and Texas cuisine!
SAN MARCOS, Texas (PRWEB) January 14, 2019
VAST Concerts & Events today announced that Bret Michaels will headline the Saturday evening concert at Cory Morrow's Go Wheels Up! Texas, scheduled for May 3-5, 2019 at the San Marcos Regional Airport. Michaels will perform on Saturday evening on the main stage.
Hosted by Texas music icon Cory Morrow, Go Wheels Up! Texas is a high-energy, family-friendly celebration of music, airplanes, exotic automobiles and of course – Texas cuisine! The weekend's concert series, air show, auto show and food festival are designed to entertain spectators from all walks of life.
"We're looking forward to bringing Bret Michaels to Texas and I can speak for all involved when I say that his addition to the concert lineup brings a new level of excitement to the entire weekend," said event host Cory Morrow. "We're looking forward to a tremendous three days in May, and I'm confident that this edition of Go Wheels Up! will be the first of many successful events in the San Marcos area."
Bret Michaels is a multi-platinum global superstar who has turned his passion for music into a multi-faceted brand that encompasses sold-out concerts, TV stardom, philanthropy, entrepreneurship and legendary songs that have sold more than 40 million records worldwide.
Rising to fame as the front man of Poison, one of rock's most iconic bands, Michaels helped define the rock-n-roll scene on the Sunset Strip. Poison's massive success includes sales of more than 30 million records worldwide and numerous hit singles. Bret's equally successful solo career has charted its own course with multiple hit albums, including his latest release, Custom Built, which reached #1 on Billboard's Hard Rock list.
Additional details and tickets for the entire weekend are available at: https://gowheelsup.live/

The Car Show begins Saturday morning, May 4th, and resumes on Sunday morning;
Each day, a 2-3 hour airshow will feature solo & team aerobatic performers;
The Food Festival runs throughout the entire weekend, showcasing flavors and craft spirits that call central Texas home;
Sunday morning kicks off with some of the area's most talented spiritual artists raising the roof at the Sunday Gospel Brunch;
All throughout the weekend there will be numerous activities for children & families.
Go Wheels Up! is poised to become a central Texas tradition for years to come. Sponsorship packages are available for local companies interested in promoting their brands to the tens-of-thousands of weekend attendees. Companies interested in participating should contact Jake Clements.
Contact Information:
Jake Clements
Go Wheel Up! Texas
VAST Concerts & Events
Jake(at)vast(dot)events
833-2GOWHEELSUP (833-246-9433)