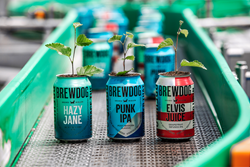 COLUMBUS, Ohio (PRWEB) August 28, 2020
The world's largest craft brewer, BrewDog, announced today that it has taken the unprecedented step to become carbon negative, and that it will remove twice as much carbon from the air than it emits every single year. These moves make BrewDog the first carbon-negative international beer brand in the world, as it sets out to fight climate change and have a positive impact on the planet.
The move is founded in BrewDog's belief that carbon neutral is no longer enough, and that businesses should be having a positive impact on the planet. To this end, BrewDog is unveiling a climate action program and sustainability report that outlines $39M of green investments across its business.
As part of these efforts, BrewDog has also purchased 2,050 acres of Scottish Highlands just north of Loch Lomond, to create the BrewDog Forest, and plans to plant one million trees over the next few years – beginning in early 2021.
The brewer also plans to create a sustainable campsite on the land, that will host sustainability retreats and workshops for the general public, in addition to inviting its 130,000 Equity Punks investors to help with tree planting.
Sustainability projects planned for BrewDog USA include solar panels to power the Columbus, Ohio brewery and headquarters; hop farm and apple orchard added to the brewery campus; wastewater treatment plant; anaerobic digestor; and electric delivery vehicles.
Over the past few months, BrewDog has been working closely with lead scientific advisor Professor Mike Berners-Lee and his team at Small World Consulting. Berners-Lee is one of the world's leading experts in carbon foot-printing and sustainability and has led the process of calculating BrewDog's carbon footprint and been pivotal in the design of its carbon removal plan. The partnership has helped to direct over $39M of investment into green infrastructure to support the business in reducing carbon emissions.
In order to double remove all of its carbon until it is able to begin planting the BrewDog Forest, the brewer will be working with offset partners on a series of projects. Each organization has the highest standard of accreditation and has been vetted by Berners-Lee and his team with each project deemed beneficial to biodiversity and local communities.
James Watt, Co-founder of BrewDog commented, "Our Carbon. Our Problem. So, we are going to fix it ourselves. Huge change is needed right now, and we want to be a catalyst for that change in our industry and beyond. We fully acknowledge that we are a long way from perfect. However, we are determined to rapidly and fundamentally change everything as we work hard to ensure we have a positive impact on the planet."
Mike Berners Lee, Founder of Small World Consulting continued, "After decades of inaction, we have a full-on climate crisis on our hands. The scale and speed of the change we now need is enormous, and cuts right across politics, business and every corner of society. The good news is that if we are smart about our transition, we can make our lives better at the same time as making them more sustainable. With the actions laid out in this report, BrewDog is giving some of the leadership the world so badly needs."
Green infrastructure projects currently underway at BrewDog Ellon (Scotland) include:

Brewery and UK bars are now wind powered
Spent grain is turned into green gas to power the brewery
An onsite anaerobic digestor is being built to turn wastewater into clean water and produce food-grade CO2 to carbonate beers
Investments are being made in the electrification of the vehicle fleet
Local brewing sites across the UK, EU, USA and Australia have significantly reduced the miles beer is traveling to reach consumers
For the full report outlining how BrewDog has calculated its carbon footprint please click here. For more news and information on BrewDog head to @brewdogusa on Instagram, Twitter or Facebook.
— END —
About BrewDog:
Since 2007 BrewDog has been on a mission to make other people as passionate about great craft beer as we are. From the Headliner series, which includes bold, uncompromising pack leaders like the flagship Punk IPA, to the Amplified range (beer, but turned up to 11), BrewDog brews beer that blows people's minds and has kick-started a revolution.
Co-founders James Watt and Martin Dickie shook up the business world in 2010 with the launch of pioneering crowdfunding initiative Equity for Punks, an initiative that has seen the company raise £73m over six rounds, with their latest round open until April 2020.
The funds and the community of Equity Punk shareholders (135,000) has enabled the Scottish craft brewery to scale up without selling out. With over 102 bars across the globe, export into 60 countries, and a brewery in Ohio that launched in 2017, BrewDog continues to take the craft beer revolution stratospheric, while continuing to push the boundaries, invest in people, put the beer first, and champion other small breweries in its venues.
Media Contact:
For more information, please contact: fmbrewdogs@fahlgren.com