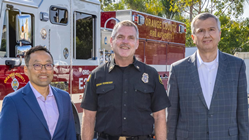 This year's Executive Leadership Awards are like no others. The unchartered needs that arose from a pandemic truly brought out innovative ways that the public and private industry can use technology to respond to a continuing crisis.
LOS ANGELES (PRWEB) November 16, 2021
Innovate@UCLA, a member-based executive IT leadership organization, announced the honorees of this year's Executive Leadership Awards for Public Sector, Community Impact, and Emerging Tech.
Awardees include Chief Brian Fennessy of Orange County Fire Authority, Amanda Renteria, CEO of Code for America, and Jiajun Zhu and Dave Ferguson, co-founders of Nuro. To register for this event, click here.
During the virtual event, the awardees will discuss their personal journeys to leadership positions, their viewpoints on emerging technology disruptions, and overcoming the challenges their organizations have faced throughout the pandemic.
Keynote speakers will include Lt. Gen. Larry D. James, interim director of NASA Jet Propulsion Laboratory (JPL), and Joyce Chang, chair of global research at J.P. Morgan Chase. As the CEO of the laboratory, James will share how NASA JPL creates a culture of innovation. Chang will discuss the US outlook and constraints on supply chain, which have intensified pressures heading into 2022, and what this could mean for future technology investments by U.S.-based companies.
Frank Mottek, the voice of business news in Los Angeles, will moderate a fireside chat with each honoree. Kevin Parikh, CEO & Chairman of Avasant and author of "Digital Singularity: A Case for Humanity" will share his thoughts on the future of innovation.
"This year's Executive Leadership Awards are like no others. The unchartered needs that arose from a pandemic truly brought out innovative ways that the public and private industry can use technology to respond to a continuing crisis," said Jim Davis, vice provost of information technology at UCLA. "This year's winners not only exemplified innovation, but improved the common good. Innovate@UCLA is proud to celebrate leaders and innovators who have come together to serve the community."
Public Sector Award: Fire Chief Brian Fennessy, Orange County Fire Authority
Fire Chief Fennessy believes that a mission-driven culture is the future of the fire service and has presented on this topic at a variety of local, state and national venues.
Under Chief Fennessy's leadership, Orange County Fire Authority has implemented the use of cameras atop aircrafts, providing his teams with real-time infrared video that help make decisions within five minutes of recognizing a fire. This system was used to battle Southern California's Tenaja fire in September of this year.
Community Impact Award: Amanda Renteria, CEO, and Lou Moore, CTO, Code for America.
Renteria was named one of Capital Hill's most influential staffers by Roll Call and received a number of awards as the first Latina chief of staff in the history of the U.S. Senate.
As the CEO of Code for America, Renteria has demonstrated exemplary leadership by supporting families that did not apply for earned income tax credit by launching an online and mobile-friendly application connecting tax filers with free, IRS-certified tax help at GetYourRefund.org. Lou Moore, CTO of Code for America, will also be receiving an award.
Emerging Tech Award: Jiajun Zhu, CEO and co-founder, and Dave Ferguson, president and co-founder, Nuro.
Before founding Nuro, both Zhu and Ferguson were principal engineers for Google's former self-driving program, Waymo. Ferguson served as the machine learning and computer vision team lead, and Zhu served as the perception and simulation team lead.
In a response to the pandemic, Nuro used its small fleet of road-legal delivery robots to transport medical supplies around two California events spaces that had been converted into COVID-19 treatment facilities.
"We look to be innovative in our businesses and to provide an environment of innovation in doing so," said Jim Rinaldi, executive director of Innovate@UCLA and former CIO of NASA JPL. "This year we are recognizing organizations that have excelled in the face of adversity, illustrating the power of innovation in times of uncertainty and ambiguity."
Special thanks to Avasant for supporting Innovate@UCLA and the Executive Leadership Awards event.
About Innovate@UCLA
Innovate@UCLA's mission is to inspire business innovation and research partnerships with emerging technologies. The not-for-profit organization provides access to a network that span the Fortune 500, public sector, tech sector and startup companies with UCLA's focus on education and research. Innovate@UCLA brings people together to spark positive disruption and enable business transformation.
About Avasant (Platinum Sponsor)
Avasant is a data-driven management consulting firm focused on translating the power of technology into realizable business strategies. The firm specializes in digital and IT transformation, sourcing advisory, global strategy, and governance services. Avasant prides itself on delivering high ¬value engagements through industry-focused innovation and flexible client-based solutions.