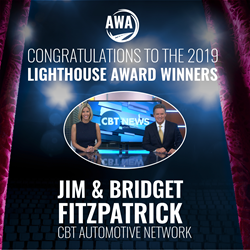 "Jim and Bridget have created a modern platform for automotive industry education, news, and premium content that has no peer. They have changed the way automotive professionals get their news, training, and business insights."
EATONTOWN, N.J. (PRWEB) January 14, 2019
Brian Pasch, a leader in digital marketing, education, research, and data intelligence for the automotive industry, is pleased to announce Jim and Bridget Fitzpatrick of CBT Automotive Network as the 2019 Lighthouse Award recipient. This prestigious award, given annually at the AWA Awards Ceremony hosted by Brian Pasch, recognizes well-respected leaders known for making a positive impact on the automotive industry through service, thought leadership, and innovation.
Jim and Bridget Fitzpatrick are the Co-founders of CBT Automotive Network. Since its launch in late 2012, CBT has become the leading news, information and training source for franchised new car dealers throughout North America. Its daily newscast is viewed by thousands of dealership personnel every day. In addition to featuring automotive news, in-depth interviews with top industry officials and special event coverage, CBT produces seven weekly shows hosted by the most well-respected trainers and consultants in the auto industry. In 2014 CBT launched a CAR BIZ TODAY Magazine. CBT Magazine is distributed to every dealership in the U.S. and features articles covering all of the issues and challenges facing dealers today. The CBT Conference and Expo have been among the top industry events for dealers and managers and features a list of top speakers including Nick Saban, Marcus Lemonis, Jason Dorsey, Scott Stratton, and Dale Pollak.
"The Lighthouse Award recognizes individuals who have unselfishly invested their time and money to better the automotive industry. Jim and Bridget have created a modern platform for automotive industry education, news, and premium content that has no peer. They have changed the way automotive professionals get their news, training, and business insights," stated Brian Pasch, Founder of PCG Companies.
Jim and Bridget embody the spirit of previous winners of this prestigious award by investing their passion and skills to improving the automotive industry. They will now hold this honor amongst a select group of previous Lighthouse Award recipients, including Jared Hamilton, Alex Snyder, Jeff Kershner, JD Rucker, David Kain, Cliff Banks, Paul de Vries, Cory Mosley and Kevin Frye.
The Lighthouse Award recipient is the only AWA Award winner announced prior to the awards ceremony, held the night prior to the National Automotive Dealers Association (NADA) Convention. At the event, awards will also be given out to top MarTech solutions in the categories of Websites, Sales Process, Website Merchandising Solutions, Fixed Operations Solutions, and more.
Colleagues of Jim and Bridget Fitzpatrick, automotive dealers, and automotive vendors are encouraged to attend the AWA Awards Ceremony to congratulate Jim and Bridget and learn which companies will be recognized with an AWA Award this year. The ceremony will take place on Thursday, January 24th at 7:30 PM at The City Club of San Francisco.
To purchase tickets for the event, or to learn more, please visit: : awa.autos
About CBT Automotive Network
CBT News/Car Biz Today, is an online news source dedicated to providing the retail automotive industry with news, training and event coverage through various forms of multi-media journalism. The online news source has more than 100,000 subscribers made up of new car dealers and their personnel. CBT News is home to award winning broadcasters and is headquartered in Atlanta, GA.
About Brian Pasch:
Brian Pasch, founder of PCG Companies, has been actively involved with automotive franchise dealers since 2005. Brian has authored seven bestselling books for the automotive industry: 'Just Faster", "Automotive Marketing Playbook", "Who Sold It?", "Swimming with Digital Sharks," "Mastering Automotive Digital Marketing," "Selling Cars in a Digital Age," and "Unfair Advantage." Brian is an active conference speaker, 20 Group presenter, and coach to both dealers and members of the vendor community. He has presented workshops at NADA, Digital Dealer, DCDW, Driving Sales Executive Summit, Kain Automotive Workshops, Innovative Dealer Summit, Automotive Engagement Conferences, Automotive Boot Camp, AutoCon, VinWorx, TrueCar Dealer Summits, and the Digital Marketing Strategies Conference. Brian is Google Analytics certified and PCG is a Google Premium Partner company.
Brian has led PCG's expansion into international markets where his training curriculum is being utilized by dealer groups and manufacturers as part of a change management process. PCG Companies include PCG Research, PCG Consulting, BPE Events and PCG Digital.