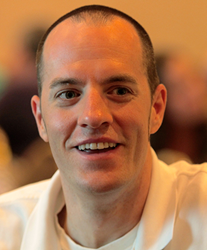 I am extremely proud to join the small group of speakers who have earned this elite certification from the National Speakers Association. My personal slogan has always been 'passionately helping others grow.'
Birmingham, Ala. (PRWEB) May 20, 2016
The Braintrust Consulting Group, a worldwide leader of Agile transformations, is pleased to announce that Brian Rabon, president, has achieved the designation of Certified Speaking ProfessionalTM from the National Speakers Association (NSA). Rabon will be honored during a ceremony on July 23 at Influence 2016, NSA's annual convention in Phoenix, AZ.
The NSA is the speaking profession's international measure of professional platform competence that is awarded to less than ten percent all public speakers in the world. By earning the CSP designation, Rabon has demonstrated his competency and is ready to perform at the highest level designated to professional speakers.
"The CSP is the highest designation that can be earned by a member of the National Speakers Association or member association of the Global Speakers Federation. When meeting professionals hire a Certified Speaking Professional, they can be assured the speaker brings to the table a high level of competence, a top-notch speaking ability and a track record of professionalism and success," says 2015-2016 NSA President Ruby Newell-Legner, CSP.
NSA recognizes Mr. Rabon, as an expert on agile project management, leadership, consulting, management, training, and coaching. To view his official NSA member profile, please visit: https://www.espeakers.com/s/nsas/speaker/profile/23022/Brian-M-Rabon
"I am extremely proud to join the small group of speakers who have earned this elite certification from the National Speakers Association. My personal slogan has always been 'passionately helping others grow.' In some ways this certification validates that I am fulfilling my goal. As an Agile Leadership evangelist, I look forward to engaging with new audiences and inspiring them grow those that they lead," said Rabon.
In the past year, Rabon has spoken at over 50 events and most recently delivered the opening keynote address at Global Scrum Gathering 2016 to over 1,150 attendees from over 30 countries on the topic of Agile Leadership.
Following the principles of Agile Leadership, Rabon has grown The Braintrust Consulting Group into one of the leading providers of Scrum training in the world, and in 2015 founded The Center for Agile Leadership®. He is also the author of Scrum For the Rest of Us, the first book written specifically for anyone interested in Scrum outside of the software development industry. To learn more about Mr. Rabon, his expertise, and availability for upcoming speaking engagements, please visit http://brianrabon.com.
###
About Brian Rabon
Brian M. Rabon, CSP, CST is the President of The Braintrust Consulting Group and the Founder of the Center for Agile Leadership®. Over the past 7 years, Brian has successfully grown The Braintrust Consulting Group into one of the leading providers of Scrum training in the world. Following Brian's vision and leadership, Braintrust has grown from a 1 man show to more than 15 team members distributed across the North American continent with over $3 million in annual revenue. Through practical, hands-on training and enterprise and team coaching, Braintrust has helped more than 6,000 clients learn, plan, and implement Agile processes, such as Scrum and Kanban. Now, through The Center For Agile Leadership, Brian is sharing the keys to his success. In his keynote speeches, he gives audiences the tools to finding their passion, take control of their to-do list, and succeed in work and in life. Using real world examples from his own professional career, Brian breaks down the flaws in traditional management principles and teaches individuals how to successfully inspire others and become agents for change within their organization and within their own lives.
Brian holds a Bachelor's Degree in Computer Science from Auburn University and a Master's Degree in Electrical Engineering from the University of Alabama at Birmingham. Brian has spoken to groups across the world including, Agile 20XX, many of the Project Management Institute's (PMI) chapters, and the Scrum Alliance's Global Scrum Gatherings. Brian is a Certified Speaking ProfessionalTM and a professional member of the National Speakers Association.