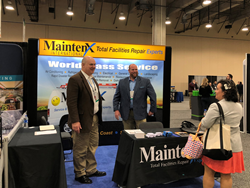 During face-to-face meetings at the show, the MaintenX team was able to learn more about the current and upcoming needs in physical retail
TAMPA, Fla. (PRWEB) March 08, 2019
Each year, the SPECS trade show brings together the best of physical retail facility managers, owners and service providers. This year, MaintenX International, one of the nation's largest providers of preventative and reactive maintenance services, attended the 55th annual show in Dallas, Texas to share their industry-leading perspective on making the best maintenance choices for brick-and-mortar spaces.
"We were very glad to see the number of attendees that were really focused on ensuring they have the best and most effective maintenance program for their facility," said Bill Schaphorst, MaintenX's VP of Business Development.
There was a large shift in focus from construction to maintenance over the past few years, Schaphorst noted. Due to the smaller, more intimate nature of SPECS compared to other major facility trade shows, retail managers and providers, like MaintenX, were able to connect.
"During face-to-face meetings at the show, the MaintenX team was able to learn more about the current and upcoming needs in physical retail and share how our technicians can answer those needs," said Schaphorst.
MaintenX technicians have been providing incomparable maintenance services for more than 40 years, and serve 13 states across the nation. This depth of experience allows MaintenX to help physical retail facility owners and managers, no matter the size of their needs.
From small projects like plumbing fixes or HVAC maintenance to major projects like roof repair and emergency power generation, MaintenX is able to meet the unique needs that exist in physical retail.
To learn more about MaintenX and the services they provide, visit http://www.maintenx.com.
ABOUT MAINTENX INTERNATIONAL:
MaintenX International is a fully licensed, facilities repair company. As one of the largest national self-performing facility maintenance and repair companies in the U.S., MaintenX has created a wide network of knowledgeable and professional technicians throughout the country. With their team of well-trained technicians, MaintenX self-performs and manages facility maintenance for their clients. In the event there is not a MaintenX technician in an area, the company has established a network of preferred vendor partners throughout the country for continued superior service for their clients. For more than 40 years, MaintenX has been expertly serving multi-location retail stores, restaurant chains and Fortune 500 companies nationwide.