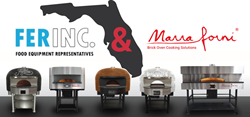 "It is particularly gratifying to find a partner that shares the same common values and passion for customer satisfaction. We're excited to introduce Marra Forni to our customers and can't wait to continue to build on the great reputation of this innovative company." - Gabriel Puerto
FORT LAUDERDALE, Fla. (PRWEB) January 05, 2021
Marra Forni, the Beltsville Maryland based manufacturer of Commercial Brick Oven Cooking Solutions, has appointed new representation in the Florida marketplace. Food Equipment Representatives (FER INC.), based in Ft. Lauderdale, will join Marra Forni as the newest member of its national sales representation network. "With sales offices and dedicated culinary support and test kitchens located in Ft. Lauderdale and Orlando, FER will play a key strategic role in our business development and support in the Florida Marketplace" stated Todd Griffith, Vice President of Sales & Marketing.
For more than 40-years, FER has been well-known and respected within the commercial foodservice industry. Their team is focused on providing solutions through a wealth of talent and industry experience. Their equipment portfolio is vast, and their business encompasses all aspects of foodservice equipment and development with end-users, operational management, developers, general contractors, chefs, design consultants, installers, and equipment distributors.
"We are excited about our new partnership with Gabe, Craig, Tom, and the FER team. We look forward to their contributions to our shared future success, and to the additional resources that will be made available to our customers in Florida" says Francesco Marra, President, and CEO of Marra Forni. Gabriel Puerto, Managing Partner with FER said "It is truly an honor for FER to have been selected to represent Marra Forni for the State of Florida. It is particularly gratifying to find a partner that shares the same common values and passion for customer satisfaction. We're excited to introduce Marra Forni to our customers and can't wait to continue to build on the great reputation of this innovative company."
Marra Forni, based in Beltsville, MD, is a leading domestic manufacturer and global supplier to the commercial foodservice Industry. The product line includes a full line of brick-oven cooking solutions, refrigerated prep tables, mixers, slicers and direct venting. Marra Forni currently sells and supports its products in 5 continents and 23 countries worldwide.
marraforni.com | 888.239.0575