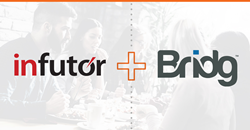 "By adding Infutor's identity resolution data, we can improve our ability to identify previously unknown consumers and enable newly found insight into consumer behavior and enhanced targeting and personalization." --Amit Jain, founder and CEO of Bridg
OAKBROOK TERRACE, Ill. (PRWEB) December 08, 2020
Consumer identity data expert Infutor today announced that Bridg, the first Customer Data Platform (CDP) purpose-built for enterprise brick-and-mortar brands and CPGs, has selected Infutor's digital consumer identity data to improve consumer identification and extend digital reach.
With data from Infutor's digital solutions suite - including mobile ad IDs (MAIDs) and hashed emails, Bridg will improve on its already market leading identity resolution capabilities, further helping their enterprise brick-and-mortar retailer clients (e.g. restaurants, grocers, convenience stores, dollar & variety stores, cinema exhibitors) and CPG brands identify, understand and engage unknown in-store customers.
"Bridg helps brick-and-mortar retailers enjoy the same rich insight into consumer behavior, targeting and personalization capabilities, and closed loop measurement that online commerce vendors utilize," said Amit Jain, founder and CEO of Bridg. "By adding Infutor's identity resolution data, we can improve our ability to identify previously unknown consumers and enable newly found insight into consumer behavior and enhanced targeting and personalization."
Utilizing client point of sales transaction data and a proprietary census of 250M+ US consumers, Bridg identifies in-store shoppers behind a transaction and builds anonymous, privacy-safe, targetable profiles with item-level purchase history, demographics, socioeconomic and predictive attributes. Infutor's industry leading and privacy compliant consumer identity data helps ensure more effective identity resolution making Bridg's solution more powerful for marketing and analytics purposes.
"We are excited to work with Bridg as their brick-and-mortar focus is unique in the industry," said Gary Walter, CEO of Infutor. "Bridg recognizes the critical role that identity resolution plays in developing effective analytics models for outbound digital marketing and segmentation."
In the Forrester report, "It's Time for Retail Stores to Open Their Doors
to the Digital Org," Principal Analyst Brendan Witcher notes, "digital business leaders will play a leading role in integrating online customer data and insights with existing store data and insights to provide a true single view of the customer."
Infutor's identity resolution services provide brands and marketers with the trusted foundational identity data they need to enhance their first party data and complete a 360-degree view of their consumers.
About Bridg
Bridg's mission is to make customer data accessible and actionable for brick and mortar retailers and CPG brands. Bridg enables clients to identify, understand and engage unknown in-store customers with the same rich insight into consumer behavior, targeting capabilities and closed loop measurement that online commerce vendors possess; helping drive media efficiency and top line growth. Bridg investors include March Capital Partners, Morpheus Ventures, and Visa.
About Infutor
Infutor is the expert in data-driven consumer identity management and identity resolution. The company is solely focused on enabling brands to instantly gain access to the most complete and accurate information about consumers, exactly when they need it, to make informed marketing and risk mitigation decisions. In the past year, Infutor has been named to the Inc. 5000 list and recognized by Crain's Chicago and Built In Chicago as a Best Place to Work. Infutor is a privately held company founded in 2003 with strategic investments from Norwest Venture Partners. Infutor is headquartered in Oakbrook Terrace, Ill. For more information, visit http://www.infutor.com.