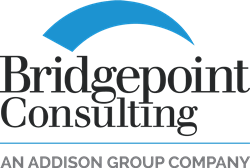 "We're eager to grow our brand and team of professionals in the city and continue to offer solutions to the complex business challenges our middle-market clients face."
DENVER (PRWEB) September 09, 2020
Bridgepoint Consulting, an Addison Group company and a leading management consulting firm that helps organizations drive innovation and successful business transformations, is pleased to announce it has expanded its services to the Denver market. The new office reflects the continued growth and momentum Bridgepoint has experienced in the last several years.
"We're proud to announce our Denver expansion," said Manuel Azuara, managing principal at Bridgepoint Consulting. "When you combine Denver's diversified economy and emerging status as a rising technology hub, it's a perfect next step for us. We're eager to grow our brand and team of professionals in the city and continue to offer solutions to the complex business challenges our middle-market clients face."
The expansion to the Denver market includes the promotion of two valuable Bridgepoint team members, Tommy Hannan and David Bizzaro, who have been named Directors. Tommy relocates from Bridgepoint's Austin office where he played a significant role in leading strategic growth initiatives. David joins the Denver team from Bridgepoint's Houston office where he was instrumental in the company's client engagement efforts.
"Both Tommy and David are invaluable members of our team and will be influential in helping to grow our presence in Denver," said Azuara. "Together, we're confident they will leverage our company's proven growth strategy to offer our Denver-based clients a level of service and expertise that's currently missing in that market."
Founded in 1999, Bridgepoint has marked the last 20 years with growth that spans acquisitions, industry vertical service offerings and geographic expansion. Throughout that time, the firm has served more than 2,500 clients, helping to transform their operations and amplify growth as they navigate the rapidly changing business landscape. In the Denver market, the company will target and serve middle-market clients in the technology, CPG, energy, cannabis, biotech and telecommunications industries.
"I'm honored to begin this new role as Director in Denver," said Hannan. "I am fortunate to spend my days meeting entrepreneurs, finance leaders, potential consultants and other service providers who make up the fabric of the business community, and this new role will only expand those opportunities."
"I'm thrilled to be a leader in our expansion to Denver," said Bizzaro. "This move is a great opportunity for Bridgepoint to share its expertise, culture and vision with a new city and its business professionals."
For more information on Bridgepoint's full suite of services and solutions, visit https://bridgepointconsulting.com/services/
About Bridgepoint Consulting
Bridgepoint Consulting, an Addison Group company, is a leading management consulting firm that helps organizations throughout their business lifecycle. Offering a broad range of finance, technology and risk/compliance services, Bridgepoint supports clients from the startup phase all the way to IPO readiness and beyond. Since 1999, the firm has been helping executives and management teams reduce their business and operational risks, bridge resource gaps and improve overall performance. Whether an organization needs interim expertise to improve infrastructure and processes, or strategic management of a major transition or transaction, Bridgepoint's team of leaders is able to provide the critical support needed to ensure success. The firm is headquartered in Austin and has offices in Dallas, Houston and Denver with additional presence in Seattle, Minneapolis and Philadelphia. To learn more about Bridgepoint Consulting and how it can help serve your organization, please visit https://bridgepointconsulting.com.