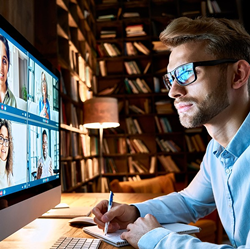 To protect vital data assets, companies need to act quickly and decisively to address the cybersecurity skills gap within their organizations.
HOBOKEN, N.J. (PRWEB) April 15, 2021
Messaging Architects, an eMazzanti Technologies Company and cybersecurity expert explores the cybersecurity skills gap in a new article. The informative article first reveals the size of the cybersecurity skills gap.
The author then reviews contributing factors that widened the cybersecurity skills gap, including mass cloud migration and the COVID pandemic. He concludes by encouraging business leaders to broaden cybersecurity knowledge within the organization and to implement automation to proactively address cyberattacks.
"To protect vital data assets, companies need to act quickly and decisively to address the cybersecurity skills gap within their organizations," stated Greg Smith, Vice President of Services Delivery at Messaging Architects.
Below are a few excerpts from the article, "Bridging the Cybersecurity Skills Gap Safeguards Critical Assets."
"While the skills gap brings career opportunities for trained security professionals, it spells danger for organizations across the globe. Without effective cybersecurity, companies put critical data and processes at risk."
Contributing Factors that Widened the Cybersecurity Skills Gap
"Move from on-premises systems to cloud – Ten or fifteen years ago, organizations stored their data on premises in a handful of environments. Managing and securing those environments proved relatively simple. Mass cloud migration and the proliferation of hybrid environments has resulted in a much more complex system to secure."
Broaden Cybersecurity Knowledge in Organization
"While cybersecurity professionals remain in high demand, data security has become everyone's business. To begin with, every IT professional within the organization needs to understand cybersecurity. IT can no longer afford to operate in siloes, with security limited to a few specialists."
Benefit from Automation
"Automation can help, particularly with organizations that lack sufficient skilled security professionals. Security solutions that use artificial intelligence and machine learning, for instance, can proactively address cyberattacks before damage occurs."
Partner with Cybersecurity Professionals
For organizations that struggle to find and retain the personnel they need, enlisting the help of cybersecurity professionals can fill the security gap. Starting with a thorough security assessment, they address vulnerabilities that put companies at risk. Then they design and implement a comprehensive security strategy and provide 24/7/365 monitoring.
The security experts at Messaging Architects offer a host of services designed to protect company data. For example, they provide email encryption, dark web scanning, data loss prevention and compliance monitoring. In addition, they can help to update internal security policies and implement essential business continuity planning.
Have you read?
Understanding Microsoft 365 Mailboxes Improves Efficiency and Saves Money
State-backed Cyber Attacks Pose Dangerous Threat to Business
About Messaging Architects
Messaging Architects specializes in effectively managing and securing an organization's most precious asset, its information. With over 20 years of information management and technology consulting experience, the Messaging Architects team has provided corporations, educational intuitions, health care facilities and nonprofits with methodologies, procedures, and technology to keep their data organized, compliant and secure.
About eMazzanti Technologies
eMazzanti's team of trained, certified IT experts rapidly deliver increased revenue growth, data security and productivity for clients ranging from law firms to high-end global retailers, expertly providing advanced retail and payment technology, digital marketing services, cloud and mobile solutions, multi-site implementations, 24×7 outsourced network management, remote monitoring and support.
eMazzanti has made the Inc. 5000 list 9X, is a 4X Microsoft Partner of the Year, the #1 ranked NYC area MSP, NJ Business of the Year and 5X WatchGuard Partner of the Year! Contact: 1-866-362-9926, info@emazzanti.net or http://www.emazzanti.net Twitter: @emazzanti Facebook: Facebook.com/emazzantitechnologies.