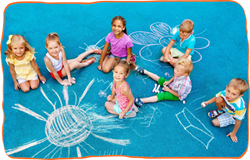 Our Curriculum Helps Build Today's Modern Classroom for Kids by Supporting Play, Theme, and Project Based Learning Approaches
LOS ANGELES (PRWEB) June 04, 2020
Today Bright Day Big Blocks and its not-for-profit Bright Day Foundation launches its play, theme and project based curriculum, developed to help preschool and kindergarten teachers stimulate that inborn curiosity children possess, getting them to engage more, collaborate more, discover more, and develop that natural love for learning.
Across the globe classrooms that serve the development of children 2 to 6 years old are rapidly growing in numbers, and are projected to continue to grow over the next decade. This growth is attributable to communities being more aware of the developmental advantages of early learning, and government willingness to fund the expansion of preschools and kindergartens. Over the last decade the quality of programs offered in these classrooms has improved, but it is generally believed by educators that more can be done to better stimulate the brains and bodies of young children.
Over the last 18 months Bright Day has worked with its global partners in Asia, in Europe and across the USA to develop preschool curriculum that is play-based, theme-based, and project-based in its approach. Bright Day coined the term Modern Classroom to describe the learning environment this new style curriculum creates.
"The most natural activity for a child is play", says Laurel Tucker, Co-Founder, Chief Executive of Bright Day Big Blocks. "While a child is at play they encounter so many learning situations and opportunities. Experts contend children are exposed to the entire world through their play - building vocabulary through communication, creativity through exploration, problem solving through experimentation. Also, as children play they build dexterity and strength. Play fully builds the social, and emotional aspects, as well as the brain and body of every child", she continues.
The Bright Day Classroom Curriculum combined the philosophies of pioneers in early childhood education - Maria Montessori, John Dewey, Rudolf Steiner, Loris Malaguzzi, and others. In their day, these experts supported a child-focused, play based learning approach possessing play themes, as well as taking on the scope of longer term, collaborative projects as the best way for a child to develop, and ultimately embrace a desire to learn.
Bright Day's Co-Founder and its Foundation Executive Director, David Krishock says. "we believe any preschool or kindergarten can adopt our Modern Classroom practices. Our play, theme and project based curriculum provides teachers an easy to understand and follow blueprint - featuring philosophy and practice, as well as process and a step-by-step approach to launching this in any school or related organization. We are using every ounce of our energy to make it easy for schools to adopt a better way for children to learn - we 100% wholeheartedly believe play is the way forward", he states.
Bright Day Foundation and Bright Day Big Blocks wants all early childhood organizations to know that the curriculum is 100% free to all teachers and schools - and also there is an open invitation to participate. "once you create, you must evolve", says Laurel Tucker. She continues, "we welcome input from progressive institutions and certified educators who desire to help build this Modern Classroom through play, theme, and project based approaches." Submissions including opinions, ideas, addendum's can be submitted to:
Bright Day Big Blocks Classroom Curriculum
P.O. Box 8039
Los Angeles, CA 91372
To obtain a copy of Bright Day Big Block Classroom Curriculum visit http://www.brightdaybigblocks.com and follow the prompts to a downloadable version.
About Bright Day Foundation
Bright Day Foundation is a not-for-profit, 501(c)(3) charitable organization whose mission is to help educators and parents better understand the importance of play in the development of preschool children. The Foundation accomplishes its goal by creating and distributing instructional content for adults (films, kid curriculum, teacher training) as well as distributing fun, learning based tools and toys that encourage play (big blocks, play environments). Founded in 2005, the Foundation supports educators in transforming children lives, building stronger minds and bodies, and enabling a Brighter Future for our kids.
About Bright Day Big Blocks
Bright Day Big Blocks is a fun, new and unique play system designed to transform children's minds and bodies through creative, child directed play. Bright Day offers big, soft play blocks and builds play space environments that peak a child's curiosity, unlocks creativity, inspires collaboration, and builds self-esteem and confidence. These blocks encourage play that builds cognitive, physical, emotional, and social skills important in the development of all children. Bright Day Big Blocks can be found around the world, in schools, playgrounds, libraries, hospitals, airports, restaurants, hotels and resorts, public parks, camps and almost anywhere you find children playing. Bright Day Big Blocks is transforming children's lives through play, building stronger minds and bodies, and enabling a Brighter Future for our kids.