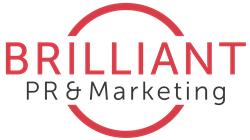 "Toy Fair is something we work towards all year for our clients," says Kathleen Tomes, president & founder of Brilliant PR & Marketing. "We know the importance of making sure our clients are seen by top media & influencers & we ensure they are prepared & ready to run the marathon that is Toy Fair."
NEW YORK (PRWEB) February 19, 2020
Brilliant PR and Marketing was founded over a decade ago with the mission of "finding and effectively marketing brands products and services no mom dad or family should be without." Serving clients in sectors including baby and maternity, lifestyle, tech, housewares, education and more, the agency is perhaps best known for its work in the toy industry. This year, with 16 clients presenting at the 2020 New York International Toy Fair, Brilliant is continuing its "Passport to Brilliance" program to help officially registered media and influencers enjoy the must-see product previews, on-site filming opportunities, live interviews and more available at its clients' booths.
"Toy Fair is something we work towards all year for our clients," says Kathleen Tomes, president and founder of Brilliant PR & Marketing. "We know the importance of making sure our clients are seen by top media and influencers and we ensure they are prepared and ready to run the marathon that is Toy Fair."
To participate in the Passport to Brilliance, officially registered media members and influencers will be asked to visit Brilliant's client booths before the fair ends on Tuesday, February 25. Prizes include one $500 Visa gift card, one $100 Visa gift card and one $50 Visa gift card. To be eligible to win, passports must be dropped off at any of the 16 booths listed below no later than 4pm on Tuesday, February 25. Winners will be selected at random.
Details of what participants can look forward to a as they complete the passport include:
HABA USA - (Booth #239) owned and operated by the Habermaass family for more than 80 years, is excited to showcase 40+ new toys this year for all ages. Categories include baby, dolls, wooden toys, Hubelino, Kullerbu, board game and more!
Schleich - (Booth #665) the top animal figurine company in the world is celebrating 85 years inspiring imaginative play! Stop by the booth and visit their lobby exhibit, The Power of Imagination, where renowned toy photographer, Mitchel Wu has translated the narratives of kids into photos.
Ollyball- (Booth #1976) The Ultimate Indoor Play Ball for Kids and Parents!
Edushape - (Booth #2903) Since 1983 Edushape has been providing children ages birth to kindergarten carefully crafted educational, imaginative and creative toys.
B4 Adventure - (Booth #5859) B4 Adventure offers A Variety Of Outdoor Products That Encourage Kids Of All Ages To Stay Active, Get Outdoors And Have Fun Doing It!
Micro Kickboard - (Booth #5869) Micro Kickboard is the U.S. partner for Swiss company Micro, maker of the world's best-rated scooters and kickboards!
Plus-Plus - (Booth #6161) the unique construction toy with one shape and endless possibility to build 2D mosaics and incredible 3D creations
Kahootz - (Booth #6237) has a collection of retro toys that everyone remembers growing up with. From Waterfuls to Colorforms to Fashions Plates, your childhood comes alive. Also check out their own home grown product line, Y'Art.
iPlay iLearn- (Booth #6391) iPlay, iLearn is a company producing toys that inspire kids to imagine, explore, and create! When you play, you learn.
E-blox- (Booth #6440) E-blox takes building blocks to the next level with their patented plug-together bricks and modules that use power and electricity while promoting STEM learning and playing.
Little Medical School - (Booth #6446) Inspiring health awareness through education and play
ASTRA - (Booth #6511) the American Specialty Toy Retailing Association, will give you a deep dive into 2019 toy trends. They are the world's largest specialty toy association, serving more than 1,700 independent specialty toy retailers, manufacturers, sales representatives, and toy industry experts.
Oribel - (Booth #6555)Baby gear and wooden toys that are beautiful, versatile and fuss-free.
hand2mind - (Booth #6618) brings years of experience and hands-on learning to Toy Fair attendees with their new Science Lab Kits for ages 5+, as well as Moving Creations with K'Nex and their classic STEM at Play Series.
Highlights - (Booth #6624) will show its extensive line of learning books for kids, ranging from Hidden Pictures to Big Fun Learning Workshops to their new Kindness books.
Banana Panda- Booth 6643 - Banana Panda products are a must-have for diaper bags, classrooms, occupational therapy clinics and more. Crafted with the highest quality standards, Banana Panda products are designed and manufactured in Europe from the finest materials, non-toxic inks and with child safety in mind.
For more information, or to request your Passport to Brilliance participation card, email info@brilliantprm.com. Also visit Brilliant PR & Marketing online at http://www.brilliantprm.com and on social at @brilliantprm and @brilliantparenting.