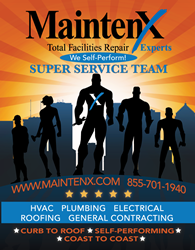 Part of the MaintenX culture is encouraging employees to engage in the community and have fun together.
TAMPA, Fla. (PRWEB) March 10, 2020
There's nothing better than a day full of friendly competition, Florida sunshine and team spirit with your favorite colleagues. That's why MaintenX International, one of the nation's largest proactive and reactive facility maintenance providers, is excited to be an official competition sponsor of the 2020 Tampa Bay Corporate SportsFest competition.
Known as 'Tampa Bay's team building blast on the beach,' SportsFest brings more than 200 companies and 5,000 employees together to compete in events like tug-o-war, beach dodgeball, beach volleyball, a sand and surf relay, and corn toss. MaintenX is the official corn toss sponsor for 2020 so the Corn Toss arena will feature MaintenX banners and wrapped trucks, and championship match will be played on MaintenX branded corn toss boards.
"We really value our ability to provide opportunities for our team members to bond, relax and have a great time together," said Bill Schaphorst, MaintenX's VP of Business Development. "MaintenX believes our success begins with our employees. I hope they can bring their passion for success to Sportsfest and take home the top prize!"
MaintenX employees value these opportunities, too. Currently, 40 MaintenX team members have signed up, enough for two teams on event day, and more are expected to sign up in coming weeks.
"We have some awesome corn toss partners lined up and we're particularly excited about our Tug-o-War teams! I've heard people talking about practicing a couple weekends beforehand, too! We're really looking forward to this team building event," said Schaphorst.
Part of the MaintenX culture is encouraging employees to engage in the community and have fun together. From competitions and contests to volunteer opportunities and team sports outings, there's always something for any team member to enjoy. And with industry-leading benefits, MaintenX employees can enjoy paid time off, 401k benefits, health care benefits and more.
During SportsFest, MaintenX's HR Director Judy Hunt will set up a recruiting tent so that she can talk with interested participants about MaintenX opportunities and how to join the super service team! To learn more about MaintenX or to explore currently available positions, visit https://maintenx.com/job-opportunities/
ABOUT MAINTENX INTERNATIONAL:
MaintenX International is a fully licensed, facilities repair company. As one of the largest national self-performing facility maintenance and repair companies in the U.S., MaintenX has created a wide network of knowledgeable and professional technicians throughout the country. With their team of well-trained technicians, MaintenX self-performs and manages facility maintenance for their clients. In the event there is not a MaintenX technician in an area, the company has established a network of preferred vendor partners throughout the country for continued superior service for their clients. For more than 40 years, MaintenX has been expertly serving multi-location retail stores, restaurant chains and Fortune 500 companies nationwide. matter if the need is roofing or plumbing or electrical services. Rather than engage multiple companies to fulfill a variety maintenance needs, MaintenX provides unique peace-of-mind with their ability to manage a suite of services from curb to roof.