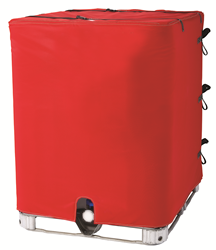 "IBC users often need to raise product temperatures to reduce viscosity or protect the contents from extreme cold. Our new heaters and insulators are designed to meet these challenges, helping facilities avoid damaging or ruining IBC contents, which can cause expensive production delays."
COLUMBUS, Ohio (PRWEB) August 11, 2020
Today, BriskHeat, a leading provider of flexible heating, insulating, and temperature controlling solutions, announced its new IBC/tote tank immersion heaters and insulators. The heater-insulator system provides a more efficient way of warming IBC contents versus traditional wrap-around models. They are designed for indoor, outdoor or washdown locations, offer easy installation and universal fit, and are removable and reusable.
Ideal for use by facility maintenance managers, plant managers and production engineers in industries including adhesives, agriculture, mining, oil and gas, petrochemical/chemical, power generation, pulp and paper, and wastewater, the new heater-insulator systems heat twice as fast as traditional wrap-around systems.
The universal-fit TTI immersion heater has 1,500 watts for maximum heat, includes a built-in controller, and features a plug-and-play design. Additionally, the superalloy Incoloy 840 will not corrode and contaminate the product. The TOTEWI insulators fit any IBC with a circumference between 160 in (406 cm) and 192 in (482 cm), are easily installed using the built-in straps and buckles, and are extremely durable. Both are suitable for use in wet environments.
"IBC users often need to raise product temperatures to reduce viscosity or protect the contents from extreme cold," said Tony Multon, Vice President of Sales, BriskHeat. "Our new heaters and insulators are designed to meet these challenges, helping facilities avoid damaging or ruining IBC contents, which can cause expensive production delays."
For more information or to order the new heaters and insulators, visit https://www.briskheat.com/news-events/tote-tank-immersion-heaters-insulators. To see the full range of BriskHeat's flexible heating solutions, visit the web site, or call 888-501-7491.
About BriskHeat
Since 1949, BriskHeat has provided flexible heating solutions used for freeze protection, condensation prevention, flow/viscosity control, vacuum bake-out, composite curing, and temperature process control. BriskHeat's primary manufacturing facilities and headquarters are located in Columbus, Ohio. BriskHeat has a worldwide sales network, including sales offices in Taiwan, China, Germany, and France, as well as a manufacturing facility in Vietnam. In 2017, BriskHeat was named to the Inc. 5000 list of fastest-growing private companies in America. In 2018, BriskHeat became part of NIBE Industrier AB, a global group of manufacturing companies with over 15,000 employees worldwide. Follow BriskHeat on Twitter (@BriskHeat), on Facebook, or on LinkedIn.