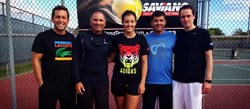 [Laura] has proven she has the talent to be a world-class player and win at the highest levels, shared Nick [Saviano].
Plantation, FL (PRWEB) December 05, 2013
Nineteen year-old, Laura Robson is no stranger to the spotlight. In 2012, she was the WTA "Newcomer of the Year." In that same year, Laura was a finalist at the Olympics Games teaming with Andy Murray. Earning over $1 million in prize money in her young career and millions more in endorsements (commercial deals with Adidas and Richard Branson's Virgin Active), not to mention over 100,000 Facebook fans, Robson's tennis future appears full of opportunity.
The world's 44th best female player is now ready for a title to add to her resume. In preparation for the 2014 tournament calendar, Laura is turning to world-respected coach, Nick Saviano. The collaboration is not a new one as Robson teamed with Coach Nick Saviano as a junior, when the then 12-year-old won the Eddie Herr Championships, was a semifinalist at the Orange Bowl and at 14, she won the Wimbledon Girls' Championships in 2008.
"Laura has proven she has the talent to be a world-class player and win at the highest levels," says Saviano. "I am excited to be working on court with her again and am eager to assist [Laura] in achieving her full potential as a player."
The 2012 WTA "Newcomer of the Year" will be looking to reclaim a more stable coach-student relationship following a succession of four coaches in recent years. Robson's team will include a traveling fitness trainer and former ATP player, Jesse Witten. Witten's responsibilities will include traveling with Robson, serving as both a coach and hitting partner.
With Robson's 2014 season beginning December 30th at the ASB Classic in Auckland, training has already begun at Saviano's internationally-attended Saviano High Performance Tennis program just outside of Fort Lauderdale in South Florida. If results are a premonition, Saviano's program, one that routinely hosts Eugenie Bouchard (WTA's 2013 "Newcomer of the Year"), Sloane Stephens (the #12 WTA player in the world), should be an asset to Robson achieving her 2014 goals.