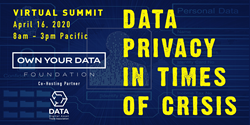 "The Own Your Data Foundation advocates for a digitally intelligent global community," said Brittany Kaiser. "We believe every person should have the ability and resources to protect their personal data."
LOS ANGELES (PRWEB) April 14, 2020
The Own Your Data Foundation, launched by Brittany and Natalie Kaiser to empower individuals through digital intelligence, is hosting its first virtual summit on Thursday, April 16, 2020, from 8:00 AM until 3:00 PM Pacific Daylight Time. DATA, the Digital Asset Trade Association will co-host the event broadcast on the Crowdcast.io live streaming platform.
This first quarterly summit for the Foundation will provide a framework for answering legal, technical, and ethical questions around data privacy, digital literacy, and citizen engagement. Findings and recommendations will be sent to Congress, regulators, and other decision-makers.
"The Own Your Data Foundation advocates for a digitally intelligent global community," said Brittany Kaiser. "We believe every person should have the ability and resources to protect their personal data. While governments and their private sector partners have legitimate reasons to harness resources in times of national emergency, we should be wary of overreach and the long-term consequences of giving up our fundamental rights in times of crisis."
Having found inadequate the privacy and data sharing practices of Zoom and other broadcast platforms, the Foundation partnered with Crowdcast for its inaugural summit. Sai Hossain, Crowdcast CEO, calls his service "a modern browser-based live video platform that puts privacy and user data protection first." Adding, "We don't sell any user data to third parties. Our privacy policy is essential to our business model—because we're supported by our paying customers, not by selling user data for ads."
Speakers will include:

Irakli Beridze, United Nations Interregional Crime and Justice Research Institute's Head of the Centre for Artificial Intelligence and Robotics
Senator Kevin Thomas, Chairman of the NY State Senate's Consumer Protection Committee, Lead Sponsor of NY's Privacy Act and member of the NY Governor's COVID-19 Taskforce
Neal Suggs, Microsoft VP & Deputy General Counsel
Dominique Shelton Leipzig, Perkins Coie Firmwide Co-Chair Ad Tech Privacy & Data Management Practice
Yuhyun Park, PhD, DQ Institute | DQ World Founder and International Lead of G20 Civil Society
Amen Ra Mashariki, Data + Digital Research Fellow at the Georgetown Beeck Center for Social Impact and Innovation and Former City of New York Chief Analytics Officer
Dele Atanda, The Internet.Foundation and metaMe Founder
Tristan Harris, Center for Humane Technology Co-Founder and Director
Joe Toscano, BEACON Founder & CVO, and member of the World Economic Forum's Steering Committee on Data Protection
Albert Fox Cahn, Surveillance Technology Oversight Project (STOP) Executive Director
Tiffany Johnson, Wunderman Thompson/WPP Tech & Data Analytics Consulting Senior Director
Alex Berke, MIT Media Lab City Science Researcher
Gus Fraser, Revoke CEO and global data rights activist,
Brent Cohen, DATA Co-Founder and COO of the Own Your Data Foundation
ELEW (Eric Robert Lewis), world-renowned pianist, DJ, and screenwriter/director, will be providing live entertainment and hosting a "virtual happy hour" after the event.
The virtual summit is free to view and will remain available for replay after the event. Registration is on the organization's Eventbrite page.
About Brittany Kaiser
Ms. Kaiser, the data rights activist and whistleblower in the Facebook and Cambridge Analytica data scandal, started the Own Your Data Foundation last year to teach and raise awareness of the need for digital literacy. Kaiser is the main subject of Netflix's original documentary The Great Hack and the author of "Targeted: The Cambridge Analytica Whistleblower's Inside Story of How Big Data, Trump and Facebook Broke Democracy" published by Harper Collins.
About Own Your Data Foundation
Own Your Data Foundation is a 501(c)(3) nonprofit foundation implementing programs that democratize digital intelligence education and create measurable social impact. Our efforts are focused on mobilizing adults and those with influence while inspiring a network of youth volunteers to become a valuable resource for their classmates and peers.
About DATA, the Digital Asset Trade Association
DATA, the Digital Asset Trade Association, was formed with the mandate to work closely with policymakers to enact ground-breaking legislation focused on Distributed Ledger Technology (blockchain technology and cryptocurrencies). As a Section 501(c)(6) tax-exempt organization, DATA works at the state and federal legislative levels to shape public policy issues to support the growth of digital assets, digital identity, smart contracts, and digital currencies.
PR Contact
Ben Leff, Director of Communications
press@ownyourdata.foundation
832-499-2220