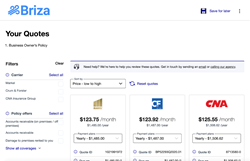 In 2020, consumers expect shopping online to be instant. This collaboration with CNA will enhance our delivery, meeting the customer needs through digital insurance distribution. We are excited to work with CNA and launch this new offering
CHICAGO (PRWEB) October 28, 2020
Briza, a software company that uses a commercial insurance Application Programming Interface (API) to connect carriers' underwriting systems to insurance agencies, wholesalers, and software platforms, announced a collaboration with CNA, one of the largest U.S. commercial property and casualty insurance companies, enabling immediate digital distribution of small business insurance products. 
Briza's customers, which are independent insurance agencies across three dozen US states, will now be able to instantly sell CNA's Business Owner's Policies (BOPs) and Workers' Compensation products online through Smart Portals or API integrations. With Briza's advanced technology, small businesses will have access to insurance quotes, pay, and have a policy issued to them in a matter of minutes online.
"In 2020, consumers expect shopping online to be instant. This collaboration with CNA will enhance our delivery, meeting the customer needs through digital insurance distribution. We are excited to work with CNA and launch this new offering," said Ben Munro, CEO of Briza. 
In future versions of the software, the integration will also enable small businesses owners to purchase BOPs and workers' comp through financial services apps such as banking, bookkeeping, payroll, and tax preparation apps as upsells that complement existing services.    
"Small businesses are looking for a seamless digital experience with their insurance needs to help keep their business running smoothly," said Wes Sprinkle, Senior Vice President, Small Business at CNA. "In today's environment, distribution is paramount. Briza's innovative software is simplifying the distribution of small business products for our clients, helping to fulfill their needs."
About Briza
Briza was founded in 2016, and is currently led by CEO Ben Munro, CTO Rishi Sharma, and COO Dominic Bortolussi. The software company also has distribution agreements with leading insurers such as Liberty Mutual, Berkshire Hathaway Guard, Markel, EMPLOYERS, Crum & Forster, and tech-enabled providers like Coalition.