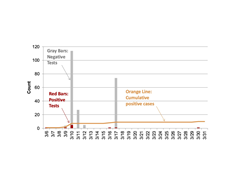 "Through partnership with University of Washington, we conducted two rounds of testing among all 80 residents at Ida Culver House Ravenna. That data continues to greatly inform our aggressive preventative measures and has kept infection rates very low—even when the risk for outbreak was high."
SEATTLE (PRWEB) April 06, 2020
Era Living (http://www.eraliving.com), a Seattle-based operator of eight retirement communities, today announced that data from two rounds of broad-based COVID-19 testing at one of its communities, Ida Culver House Ravenna in Seattle, informed targeted preventative measures that continue to show promising low COVID-19 infection rates among residents of the community.- -
"Through partnership with the University of Washington Medical Center, we conducted two rounds of broad-based testing among all 80 residents at Ida Culver House Ravenna. That data continues to greatly inform our aggressive preventative measures and thus far and has kept infection rates very low—even when the risk for outbreak was high following two known infections in early March," said Nisan Harel, Vice President of Operations at Era Living.
"We know that elderly individuals, and those who care for them, are most at-risk for developing COVID-19 infections that are life-threatening," continued Harel. "It's time to allow broad-based testing for all residents and staff in retirement, nursing home and assisted-living facilities to help inform targeted preventative strategies to protect residents and staff, while also preserving valuable personal protective equipment."
Results from Rapidly-Deployed Early Testing Showing Positive Prevention Results
On March 10th, 2020, just one day after learning that the Ida Culver House Ravenna community's first COVID-19 positive resident had passed away—and receiving news of a second positive resident—Era Living partnered with University of Washington Medical Center (UWMC) to deploy rapid, broad-based testing onsite for all staff and residents at the community.
The quick and thorough response enabled the immediate identification of three more residents and two staff members at the community who were positive for COVID-19. The residents were asymptomatic at the time of testing, and identifying the virus at this early stage enabled the Ida Culver House Ravenna team to strictly isolate them and put targeted, aggressive preventative measures in place.
Specifically, the Era Living team changed its staffing schedule at Ida Culver House Ravenna to avoid staff crossover to other residents, and ensured that staff who were still interacting with COVID-19 positive residents were fully protected with personal protective equipment (PPE). In addition, the following strategies were implemented to help inhibit further spread of the virus:

Restricting non-essential visitors and screening essential visitors for risk factors.
Taking temperatures of all staff at the start of their shifts and all visitors.
Canceling dining room meals.
Canceling all resident activities, including bus outings to the grocery store.
Doubling frequency of surface cleaning and disinfectant protocols in common areas.
Reminding all residents and staff to practice rigorous hand hygiene and avoid touching eyes, nose, and mouth.
Strongly encouraging staff to take extra precautions in their personal lives given the vulnerability of the residents we serve (in advance of government orders). This includes, among other things, staying at home and avoiding large groups of people as much as possible.
Committing to transparent and frequent communication with our residents and staff.
To test the effectiveness of these strategies, a second round of follow-up testing was conducted on March 17th in partnership with UWMC. At that time, only one new resident was confirmed as COVID-19 positive, and three of our four previously-positive residents are now negative. Since the second round of broad testing on March 17th, only one new staff coronavirus case has presented at Ida Culver House Ravenna.
Era Living Pleas for Greater Testing Availability to Protect Elderly Communities and Workers
As a result of these outcomes, Era Living is making an impassioned plea to local, state and government officials to begin enabling broad-based testing immediately for elderly individuals across retirement, nursing home and assisted living communities.
"It has been heartbreaking to watch the coronavirus situation unfold in communities around our state," said Harel. "We know from our own experiences—and by monitoring data from countries such as Germany and South Korea, who are successfully-fighting COVID-19 using broad-based testing—that identifying those infected early-on can dramatically change outcomes for the better."
"Prioritizing the availability of PPE for broad-based testing in community living environments for vulnerable people would be far less wasteful - and in our opinion, much more effective at curbing the spread of the virus - than trying to use PPE on everyone in our communities," continued Harel.