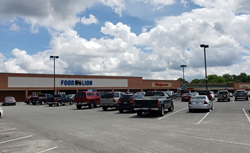 "Pandemic or not, necessity-based retail is a pillar of our communities. It's something we've always believed, and we're proud to continue finding and elevating the value these centers bring to local residents." - Nate Tower, Broad Reach Founder & CEO
MILLERSVILLE, Md. (PRWEB) October 14, 2020
Broad Reach Retail Partners LLC, a value-add retail owner and operator of shopping centers, has acquired the Warsaw Village Shopping Center in Warsaw, Va. despite the unusual business climate introduced by the COVID-19 pandemic. The deal reflects the firm's continued confidence in the commercial real estate sector. Broad Reach isn't looking for shopping centers on the ropes. On the contrary, they believe there are many solid centers serving their communities that have great unrealized potential.
"I've always maintained that necessity-based retail may evolve, but will always thrive," said Nate Tower, founder and chief executive officer of Broad Reach, noting that 2020 rent collections never dropped below 84% across its portfolio of shopping centers. "Most of our anchors are essential businesses like grocery and other supporting retail around them providing necessary goods and services. Their communities need them now more than ever, and it's been inspiring to watch them rise to such an unexpected, far-reaching challenge."
In particular, Tower noted how Broad Reach's tenants have quickly and creatively pivoted to continue serving customers during the pandemic.
"The resourcefulness we've witnessed has been astounding," he said. "For example, one of our apparel tenants used FaceTime to walk customers around the store for a personal shopper experience – just one case of our tenants demonstrating that, pandemic or not, necessity-based retail is a pillar of our communities. It's something we've always believed, and we're proud to continue finding and elevating the value these centers bring to local residents."
It is this long-term value the firm plans to bring to its latest acquisition, Warsaw Village Shopping Center in Warsaw, Va. Located less than two miles from Rappahannock Community College and just one-hour northeast of Richmond, this 60,100 square-foot shopping center is anchored by a newly renovated Food Lion. In addition, Warsaw Village features an essential tenant lineup including Walgreens, Virginia ABC and US Renal Care, all of which have remained open for safe shopping throughout the pandemic.
The center is currently 81% occupied, leaving approximately 11,500 square feet of spaces for lease ranging from 1,350 to 7,150 square feet. In addition, there is a one-acre out pad located at the front of the shopping center, perfect for a fast-casual restaurant. Situated prominently along Richmond Road, the main thoroughfare through Warsaw, the shopping center benefits from approximately 14,000 vehicles traveling by every day. Richmond Road also provides access across the Rappahannock River and into downtown Richmond.
"While malls and power centers have suffered, need-based shopping is different; driven by convenience and necessity, the right centers have a solid foundation. We have leveraged our years of experience to realize their full potential in times like this, and we remain enthusiastic about the future," Tower added.
About Broad Reach
Broad Reach Retail Partners, LLC a privately held, fully integrated owner and operator of shopping centers. Broad Reach has owned 29 centers since 2006, managing over 4.5 million square feet and closing more than 850 transactions. Our mission is to create value for our partners, properties, and people. We do this by maximizing the full potential of underutilized shopping centers through focused leasing, disciplined redevelopment, and meticulous management. For more information, visit http://BroadReachRetail.com.