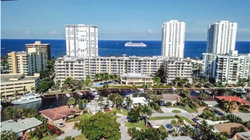 The popularity of Penetron's admixture – used in countless waterfront projects across Florida – underlines the effectiveness of our crystalline technology.
EAST SETAUKET, New York (PRWEB) October 29, 2019
Officially opened September 2019, the recently-completed Broadstone Oceanside project is a luxury waterfront apartment community in Pompano Beach, Florida. The project engineers relied on Penetron crystalline technology to resolve construction challenges related to saltwater exposure and a high water table.
"Building virtually anywhere in Southern Florida brings the challenges of high groundwater levels, incursion of seawater and, often, flooded building sites," explains Christopher Chen, Director of The Penetron Group. "Pompano Beach, located directly on the Atlantic Coast, is a classic example of what it means to build in a marine environment."
Recognition for Pompano Beach
A city of around 100,000 people located between Boca Raton and Fort Lauderdale Beach, Pompano Beach is currently in the middle of a multi-million-dollar development boom that is set to revitalize the beachfront and historic downtown areas. The ongoing rejuvenation of previously rundown areas near the city's beach is behind the growing attraction of Pompano Beach as a more affordable alternative to its southern coastal neighbors (such as nearby Fort Lauderdale and Sunny Isles Beach).
"The city has also been listed as one of the top real estate markets by leading market analysts at CNN and the Wall Street Journal," adds Christopher Chen.
Broadstone Oceanside is an eight-story low-rise building development situated directly on the Intracoastal Waterway. Developed by Alliance Residential and Merrimac Ventures, Broadstone Oceanside comprises 204 apartments and seven two-story town homes — all in walking distance from Pompano Beach's new oceanfront district of trendy restaurants and shops.
Looking for a Reliable and Durable Solution
Designed by MSA Architects, Broadstone Oceanside offers one, two and three bedroom apartments and townhome residences, with amenities that include a pool and spa, state-of-the-art fitness center, pet park, yoga/fitness studio, private dining room, media screening and conference room, Cyber Café, and a luxurious eighth-floor sky lounge that overlooks the sparkling waters of the Atlantic Ocean and the Intracoastal Waterway.
For the Broadstone Oceanside project managers, finding a reliable and durable solution was a key part of the construction planning stage. The local Penetron team worked with Titan Concrete, the ready-mix supplier, to come up with an optimal solution.
Ultimately, key below-grade concrete elements – the pile caps containing the elevator pits – were treated with PENETRON ADMIX SB as a permanent waterproofing solution.
Ensuring Protection Against Hydrostatic Pressure
PENETRON ADMIX SB – in pre-measured soluble bags – was added to the concrete during the mixing phase to provide comprehensive protection against the surrounding high hydrostatic pressure and concrete deterioration caused by the saltwater penetration resulting in rebar corrosion. Once PENETRON ADMIX is mixed into the concrete, the crystalline network unleashed by the admixture becomes an integral part of the matrix, decreasing the permeability of the concrete, which significantly increases concrete durability and the service life of the structure.
"The popularity of Penetron's admixture – used in countless waterfront projects across Florida – underlines the effectiveness of our crystalline technology," concludes Christopher Chen.
The Penetron Group is a leading manufacturer of specialty construction products for concrete waterproofing, concrete repairs and floor preparation systems. The Group operates through a global network, offering support to the design and construction community through its regional offices, representatives and distribution channels.
For more information on Penetron waterproofing solutions, please visit penetron(dot)com or Facebook(dot)com/ThePenetronGroup, email CRDept(at)penetron(dot)com or contact the Corporate Relations Department at 631-941-9700.