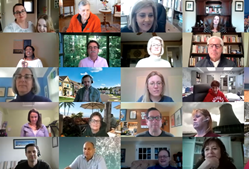 Virtual meetings are essential in this Pandemic Crisis, and critical information can be balanced with inspiration and motivation. What if we took 5 minutes and added a live performance from a Broadway star? - Elliott Masie, MASIE Productions
SARASOTA SPRINGS, N.Y. (PRWEB) April 01, 2020
Virtual meetings are essential in this Pandemic Crisis, and critical information can be balanced with inspiration and motivation. What if we took 5 minutes and added a live performance from a Broadway star?
This is the service idea of Elliott Masie, who is both a Broadway Producer and one of the inventors of "e-Learning" in the 1990s. With Broadway talent ready and excited to perform, from their laptops at home, the idea was hatched.
Watch a video featuring two meetings of Global Business Executives (http://www.masie.com/engage) that includes performances from:

Melinda Doolittle – star of American Idol and nationally known actress and singer, performing "That's Life"
Joomin Hwang – from Broadway's The PROM and KPOP, performing Godspell's "Beautiful City"
They sang from their apartments, using music from their mobile phones, capturing the energy and engagement of almost 100 corporate executives that were meeting to talk about improving workplace learning in the Pandemic.
MASIE Productions is donating $200 for each performance to The Actors Fund, which is supporting the needs of the theater community.
For more information, send a note to readiness@masie.com.
Information on The MASIE Center's Coronavirus & Learning Project: http://readiness.masie.com/
Founded in 1882, The Actors Fund is a national human services organization here to meet the needs of our entertainment community with a unique understanding of the challenges involved in a life in the arts.