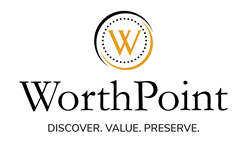 Sports memorabilia is a fun category that's popular with both serious collectors and hobbyists.
ATLANTA (PRWEB) May 24, 2021
WorthPoint Corporation has formed a partnership with Brockelman Auctions of Rhome, Texas.
Brockelman Auctions bills itself as "an auction company by collectors, for collectors." Co-founder Scott Brockelman has been a serious sports card collector since the 1990s and is a long-time contributor to the Krause Big Book, The Vintage & Classic Baseball Collector magazine, SCD, and many other publications. The company has handled some of the rarest and most expensive cards in the hobby. More than 10,460 sales results from Brockelman Auctions are now searchable in WorthPoint's Price Guide.
"As a collector, I have used WorthPoint to search for both new items of interest and historical sales data," said Brockelman. "I know the inclusion of Brockelman Auctions listings will help people as they add to their existing sports collections or just enjoy researching past sales."
"We love adding baseball cards and all types of sports memorabilia to our databases. It's a fun category that's popular with both serious collectors and hobbyists," said Will Seippel, WorthPoint founder and CEO. "I'm also a lifelong collector of cards and baseball memorabilia so this is a personal favorite for me."
Brockelman Auctions is accepting consignments for their June 7-19 auction. For more information, visit BrockelmanAuctions.com.
WorthPoint partners with a diverse group of online marketplaces and traditional auction houses to provide archived sales data for art, antiques, luxury, vintage, and collectible items.
About WorthPoint Corporation: WorthPoint manages the largest online resource for researching, valuing, and preserving antiques, art, and collectibles. The company's suite of offerings on WorthPoint.com includes a Price Guide, a resource gallery for identifying maker's marks, autographs, patterns, and symbols (M.A.P.S.), and a digital Library with nearly 1,000 books on collectible topics. Through data aggregated from online marketplaces, including eBay and leading auction houses, WorthPoint empowers the antiques and collectibles industry by providing a steady stream of new data each month, building on more than 540 million archived prices and nearly 1.3 billion images to improve pricing transparency for sellers and buyers. WorthPoint is headquartered in Atlanta and has subscribers on six continents.