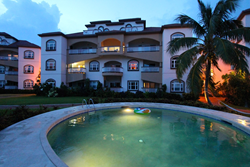 There is nothing that compares to this in Belize, or the Western Caribbean; not now, or in the future.
Ambergris Caye, Belize (PRWEB) September 02, 2015
The first property (Villa Ragazza Belize), according to McCann, is a newly built luxury beachfront home. It features three bedrooms, three and a half baths, located three miles south of San Pedro Town.
"This home sits on 75 feet of beachfront land and is complete with a sea wall, private dock, and sand island," McCann said of the home priced at $1.3 million. "The main living areas of the home sit 11 feet off of the ground on the second level, as does the infinity edge pool. The kitchen, dining, and living area are in an open concept space with floor to ceiling windows and doors leading right out to the pristine pool deck."
McCann went on to explain that the second property (The Jewel of Belize) is the most important property in Belize that's now for sale. "There is nothing that compares to this in Belize, or the Western Caribbean; not now, or in the future," McCann stressed, before adding, "It is a one-of-a-kind lifetime treasure. This amazing development opportunity is located on the northern part of Ambergris Caye, the island that for 2013 and 2014 has been voted by TripAdvisor as 'the most beautiful island in the world'. There are 3,000 acres of land, with some of the highest land on the island, ranging from sea level to 18 feet above sea level."
The property, which has a listing price of $15 million, according to McCann, is almost five square miles and can be purchased with additional beachfront property that will give you beach access on the Caribbean Sea all the way back to the lagoon.
"The lagoon side has a magnificent beach and a large area that can be developed as a marina. This will give access to mainland Belize and Mexico," McCann pointed out. "Ancient Mayan sites exist here and would be fantastic to develop for tourism. It will be essential to develop this enormous acreage in an environmentally sensitive, eco-friendly manner."
The third property, (Villa at Grand Caribe), is a luxury five bedroom custom home on the beach.
"This luxury beachfront home is located on a beautiful and private beach area of North Ambergris Caye, Belize and offers all the conveniences to make it your full-time home or your home away from home," McCann noted. "Experience the ultimate in privacy and luxury amidst tropical surroundings. Because this home sits on 100 feet of beachfront property you will enjoy spectacular views of the Caribbean Sea and Barrier Reef from the living room, kitchen and bedrooms."
The home, which has a listing price of $5 million, includes 7,500 square feet of living space plus an additional 3,500 square feet outdoor entertaining area and includes five bedrooms and five and a half baths.
"Each bedroom includes a spacious private balcony," McCann said. "The master suite includes a jacuzzi tub overlooking the Caribbean Sea. This luxury home also includes a custom bar and theater area. All of the woodwork throughout the entire home is handmade with Belizean hardwoods. This elegantly decorated home is being offered fully furnished."
Belize Sotheby's International Realty enjoys giving back to the community that has enriched their lives. McCann is involved with the San Pedro Youth Cadet Program and is also on the committee for the North Neighborhood Watch. In May, the company sponsored a table at S.H.I.N.E. On Eagle's Wings Ministries (OEWM) hosted a successful fundraising banquet dinner at Ramon's Village on Saturday, May 16, 2015 called A Magical Mayan Night. The event was to raise funds for OEWM's S.H.I.N.E program and the S.H.I.N.E Center building fund.
About Belize Sotheby's International Realty
Belize Sotheby's International Realty now offers two locations. The flagship location is located on Barrier Reef Drive, San Pedro Town, Ambergris Caye, Belize with local phone 501.226.4309­ and toll-free phone 866.337.8202 or email info(at)belizesir(dot)com­. Any of their experienced agents are happy to assist
About the NALA™
The NALA is a full-service marketing agency providing custom personalized service for small and medium businesses throughout the United States.
PR Contact:
the NALA
news(at)thenala(dot)com
805.650.6121, ext. 361