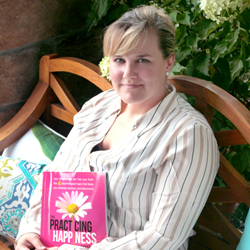 Knoxville, TN (PRWEB) August 11, 2015
As part of National Happiness Happens Month, Brookhaven Retreat has instated a new curriculum for clients called "Be Happy," a group that will meet weekly for 12-week periods.
Marlaina Kincaid, one of Brookhaven Retreat's Primary Therapists, will facilitate the group based on the book The Practicing Happiness Workbook: How Mindfulness Can Free You from the Four Psychological Traps that Keep You Stressed, Anxious, and Depressed by Ruth Baer. Through role play and mindfulness exercises, worksheets, journaling, and processing, clients will discover that happiness is a way of life rather than the result of daily positive outcomes.
"Happiness is not about giddiness, laughter or smiles," says Kincaid, who earned her master's in Counseling Psychology from Capella University and is currently working on her Ph.D. in Industrial Organizational Psychology. "Happiness is a state of being. If you are truly happy and content with yourself and your life, then you have a happy foundation that no one can take away."
In other words, happiness is a choice, adds Kincaid, who has spent a decade working in the mental health field.
"The group is designed to help gain an understanding that through mindfulness you can survive the negativity that the world sometimes offers each of us," she says. "The premise is that through mindfulness you invite the thoughts into your mind, acknowledge them, let them do what they need to do, and then let them go. You do not judge them or yourself, but rather acknowledge thoughts and feelings just as they are and then move on. When you have the opportunity to change the situation, you do so with problem solving. Happiness does not welcome rumination, avoidance, emotionally driven behavior or self-criticism."
Mindfulness is the key element that makes room for happiness.
"Learning mindfulness allows negativity to pass so you can stay centered on the foundation of the happiness you have created within yourself and your life," Kincaid concludes.
About Brookhaven Retreat
Brookhaven Retreat is a women's treatment center nestled on a naturally beautiful 48-acre site secluded in the foothills of the Great Smoky Mountains. It has helped hundreds of women across the United States overcome depression, trauma, anxiety, substance use and a range of other behavioral health challenges. Brookhaven's Founder, Jacqueline Dawes, has predicated its gender-specific treatment on "healing emotional breakage" for women. In this way, she has established a sanctuary and a place where women can feel safe, secure and cared for by a staff of highly trained professionals.