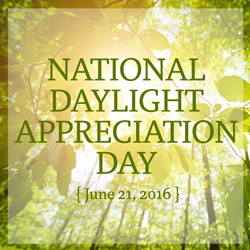 Knoxville, TN (PRWEB) June 21, 2016
Brookhaven Retreat®, LLC, a unique residential treatment facility exclusively for women with mental health and/or substance abuse issues, recognizes National Daylight Appreciation Day with a Mindful Nature Walk of the Brookhaven Retreat grounds on June 21st.
Observed on June 21st of each year, National Daylight Appreciation Day recognizes the longest day of daylight in the northern hemisphere, also known as summer solstice. This day also encourages people to incorporate daylight into all aspects of their lives.
One of the greatest benefits from sunlight is absorption of Vitamin D in the skin. Unlike any other essential vitamin, which is obtained from food, Vitamin D can be produced through the skin via sunlight. The Food and Drug Administration (FDA) recommends a level of Vitamin D equivalent to 10-15 minutes of sun exposure daily. Below are several benefits to Vitamin D and sun exposure:

Increased positive mood
Better sleep
Decreased blood pressure
Building immune system
Decreased Depression
Brookhaven Retreat's client and staff will recognize National Daylight Appreciation Day by conducting a mindful nature walk on the Brookhaven Retreat Grounds on June 21st. Brookhaven Retreat offers pristine 48-acre grounds with many sightseeing opportunities. During the mindful nature walk, clients will explore the numerous walking paths and nature trails, stopping along the way to take in the views of the secluded gazebos, horse stables, and beautiful Great Smoky Mountain views. The clients may even get to enjoy watching a deer run along the pasture or enjoy the calls of a neighboring peacock while on their walk.
About Brookhaven Retreat
Brookhaven Retreat is a women's treatment center nestled on a naturally beautiful 48-acre site secluded in the foothills of the Great Smoky Mountains. It has helped hundreds of women across the United States overcome depression, trauma, anxiety, substance use and a range of other behavioral health challenges. Brookhaven's Founder, Jacqueline Dawes, has predicated its gender-specific treatment on "healing emotional breakage" for women. In this way, she has established a sanctuary and a place where women can feel safe, secure and cared for by a staff of highly trained professionals.