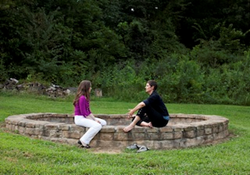 Knoxville, TN (PRWEB) November 13, 2014
Brookhaven Retreat is sending a small clinical team to attend the Practice-Based Intensive Dialectical Behavior Therapy Training Seminar in Atlanta November 18-21. This four-day conference will provide the necessary training and skills to better integrate DBT into therapeutic practices, allowing Brookhaven Retreat to expand its residential program to reflect the latest in effective therapeutic treatment.
Dialectical behavior therapy was developed by Marsha Linehan to treat borderline personality disorder and self-harming behaviors, but has proven to be effective for a wide variety of mental health issues including depression, anxiety and PTSD. It teaches women the skills needed to regulate emotions and overcome the disparaging impulses associated with borderline personality disorder. Its core skills enable women to accept and mend the emotional breakage caused by mental health issues.
The DBT conference is held each year to assemble dialectical behavior therapy clinicians from around the world. The four-day seminar will expand clinicians' intellectual understanding of dialectical behavior therapy and enable them to integrate DBT seamlessly and confidently into their therapeutic practices.
Brookhaven Retreat's residential facility is committed to its staff's continued training and education. Trainings and seminars attended by primary therapists, nurses and program counselors provide the skills and understanding that allows Brookhaven Retreat to offer the highest quality care to women struggling with mental health disorders. With these fundamental skills in hand, the women in its program can learn to manage their thoughts, feelings and behaviors to create healthy and stable lives.
About Brookhaven Retreat
Brookhaven Retreat is a women's treatment center nestled on a naturally beautiful 48-acre site secluded in the foothills of the Great Smoky Mountains. It has helped hundreds of women across the United States overcome depression, trauma, anxiety, substance use and a range of other behavioral health challenges. Brookhaven's Founder, Jacqueline Dawes, has predicated its gender-specific treatment on "healing emotional breakage" for women. In this way, she has established a sanctuary and a place where women can feel safe, secure and cared for by a staff of highly trained professionals.