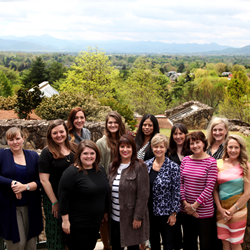 Knoxville, TN (PRWEB) May 03, 2016
Brookhaven Retreat LLC, a unique residential treatment facility exclusively for women with mental health and/or substance abuse issues, hosted Dr. Stephanie Covington's training session, "Beyond Trauma, A Healing Journey for Women" at the Grove Park Inn in Asheville, NC, April 22 and 23.
In the two-day training, Dr. Covington, an internationally recognized clinician, author, organizational consultant, and lecturer, demonstrated techniques to be used by therapists to help clients develop coping tools, as well as emotional wellness. The program also introduced the newly revised evidence-based program incorporating the insights of neuroscience with the latest understanding of trauma and PTSD to assist both new and seasoned group leaders.
Jacqueline Dawes, founder and owner of Brookhaven Retreat and its staff therapists, as well as Dr. Kelly Ownby, staff psychiatrist, attended and participated in the experiential training, which was designed in part to remind practitioners of a client's vulnerability during the healing process. The following therapists were in attendance: Stephanie Christian, Charity Coyle, Marlaina Kincaid, Sharon Moore, Meg Abbott, Deby Torbett, Katherine Myers, Lana Wilcox, Holly Moore, and Julia Wilson.
Cognitive-behavioral techniques, mindfulness, expressive arts, and the principles of relational therapy were integrated in the strength-based approach. The curriculum also discussed the definition of trauma, its process, and its impact on both the inner self (thoughts, feelings, beliefs, values) and the other self (behavior and relationships, including parenting), and defined happiness as an internal awareness rather than an external endeavor.
"Recovery is possible at any age and any stage," said Dr. Covington, a pioneer in the field of women's issues, addiction, trauma and recovery. She has developed an innovative, gender-responsive, and trauma-informed approach that results in effective services in public, private, and institutional settings.
"Creativity and commitment is how we help women heal," she added.
Her presentations, staff-development seminars, and technical assistance provide information on systems change and the development of caring, compassionate, and empowering therapeutic environments. She provides professionals with the opportunity to learn new skills for dealing with personal, institutional, and societal changes. Her presentations are always in demand, both nationally and internationally.
Dr. Covington is based in La Jolla, California, and co-directs the Institute for Relational Development and the Center for Gender and Justice. Educated at Columbia University and the Union Institute, she was the featured consultant and therapist on the Oprah Winfrey Network docu-reality show, "Breaking Down the Bars."
She has also served on the faculties of the University of Southern California, San Diego State University, and the California School of Professional Psychology, and she is a former chair of the Women's Committee of the International Council on Alcoholism and Addiction. She is a board-certified Diplomate of the National Association of Social Workers and the American Board of Sexology, and a member of the American Association of Marriage and Family Therapy and the American Psychological Association. She has also served on the Advisory Council for Women's Services for the federal agency SAMHSA.
Among the many articles and books, as well as published gender-responsive and trauma-informed program materials written by Dr. Covington are: "Women and Addiction: A Gender-Responsive Approach," "Awakening Your Sexuality: A Guide for Recovering Women," and "Leaving the Enchanted Forest: The Path from Relationship Addiction to Intimacy."
Dr. Ownby, full-time on-site psychiatrist at Brookhaven Retreat, said, "It is such a privilege to use Dr. Covington's work and research as part of a program that treats women who have experienced trauma. Training in person with Dr. Covington enhances the opportunity to help women heal by deepening my understanding of her research. I am able to more closely survey the world through the lens of trauma. I am grateful to Jacqueline Dawes for the opportunity to enhance my learning and connect with my coworkers as we navigate the treatment of our clients moving forward."
Dawes says her wish for attendees of the training is that they absorbed the concept that, "A good therapist comes from a place of love."
About Brookhaven Retreat
Brookhaven Retreat is a women's treatment center nestled on a naturally beautiful 48-acre site secluded in the foothills of the Great Smoky Mountains. It has helped hundreds of women across the United States overcome depression, trauma, anxiety, substance use and a range of other behavioral health challenges. Brookhaven's Founder, Jacqueline Dawes, has predicated its gender-specific treatment on "healing emotional breakage" for women. In this way, she has established a sanctuary and a place where women can feel safe, secure and cared for by a staff of highly trained professionals.