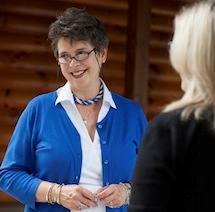 Knoxville, TN (PRWEB) April 16, 2014
On April 8-9, Dr. Lynn Swisher, a member of Brookhaven Retreat's professional staff consulting team, visited the facility. Certified by the American Board of Quality Assurance and Utilization Review Physicians, Dr. Swisher worked to ensure Joint Commission compliance and organizational management.
The two-day visit allowed Dr. Swisher to attend the Performance Improvement committees and confirm adherence to organizational goals within all departments at Brookhaven Retreat. Dr. Swisher participated in the Education Committee, Life Safety Committee, Information Management Committee and Pharmacy Committee meetings, offering input into practices and positive changes.
Brookhaven Retreat's Medical Manager, Amy Massaglia, met with Dr. Swisher to evaluate the Joint Commission's leadership and medical Focused Standards Assessments. As part of the Joint Commission's accreditation program, this annual review recognizes and analyzes critical risk areas to undergo mandatory annual assessment.
Dr. Swisher met with members of the medical team including the nurses and treating psychiatrist Dr. Robert Hamm to review medical policies and ensure quality client care.
Compliance with these standards is part of Brookhaven Retreat's ongoing efforts to deliver the best in residential treatment for women with mental health or substance abuse issues. Brookhaven Retreat is continuously improving its procedures.
A safe environment gives women the best opportunity to recover and heal from depression, anxiety, mood disorders and substance abuse. Regular visits from Dr. Swisher allow Brookhaven Retreat to review all procedures and ensure outstanding compliance with the Joint Commission.
About Brookhaven Retreat
Brookhaven Retreat is a women's treatment center nestled on a naturally beautiful 48-acre site secluded in the foothills of the Great Smoky Mountains. It has helped hundreds of women across the United States overcome depression, trauma, anxiety, substance use and a range of other behavioral health challenges. Brookhaven's Founder, Jacqueline Dawes, has predicated its gender-specific treatment on "healing emotional breakage" for women. In this way, she has established a sanctuary and a place where women can feel safe, secure and cared for by a staff of highly trained professionals.