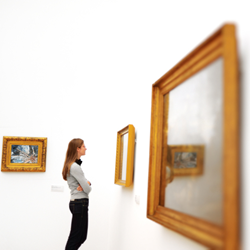 Knoxville, TN (PRWEB) September 22, 2015
Brookhaven Retreat® LLC, a unique residential treatment facility exclusively for women with emotional and mental health challenges, and/or substance abuse issues hosted a therapeutic outing to The Knoxville Museum of Art on Saturday, September 5, 2015.
The Knoxville Museum of Art celebrates the art and artists of East Tennessee, and aims to educate and enhance the community. Clients had the opportunity to enjoy the current exhibit, The Paternal Suit, which runs until Nov. 8.
Organized by the Halsey Institute, Halsey Institute of Contemporary Art, College of Charleston School of the Arts, the exhibit consists of more than 100 paintings, prints, and objects created by Los Angeles-based conceptual artist F. Scott Hess. Sculpture, ceramics, furniture, toys, newspaper clippings, historic photographs, guns, and costumes create an elaborate storyline whose subtext is the artist's abandonment by his father after divorce.
As part of The Lily Program®, a 90-day voluntary residential program offered exclusively at Brookhaven Retreat, regular recreational outings help women overcome depression, trauma, anxiety, personality disorders, and substance dependence among other diagnoses.
Founder of Brookhaven Retreat, Jacqueline Dawes, says, "Visiting museums and going on other outings designed to inspire and educate our clients, falls under the category of experiential therapy, which is a large part of the comprehensive treatment plan at Brookhaven Retreat."
Art therapy is also an essential, experiential aspect of the recovery program at Brookhaven Retreat for the fact that artistic activity engages different parts of the brain. It has the ability to summon images from the unconscious - dreams, fears, thoughts, feelings and desires that have been hidden away from our conscious minds.
"There are times when women get so consumed by their inner turmoil that it becomes difficult to let go of it," adds Dawes. "The process of drawing, painting or sculpting can be very telling of what's going on beneath the surface, and therefore quite healing. The imagery that evolves reveals ideas that relate to a woman's personal story. Art encourages self-discovery in a very natural, comforting way."
About Brookhaven Retreat
Brookhaven Retreat is a women's treatment center nestled on a naturally beautiful 48-acre site secluded in the foothills of the Great Smoky Mountains. It has helped hundreds of women across the United States overcome depression, trauma, anxiety, substance use and a range of other behavioral health challenges. Brookhaven's Founder, Jacqueline Dawes, has predicated its gender-specific treatment on "healing emotional breakage" for women. In this way, she has established a sanctuary and a place where women can feel safe, secure and cared for by a staff of highly trained professionals.