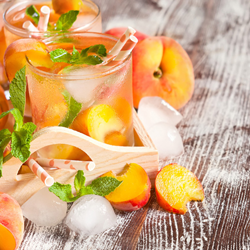 Knoxville, TN (PRWEB) June 14, 2016
Brookhaven Retreat®, LLC, a unique residential treatment facility exclusively for women with mental health and/or substance abuse issues, celebrated National Iced Tea Month by serving Peach-Thyme Iced Tea during Afternoon Tea Time on June 12th.
Each June, National Iced Tea Month is celebrated to recognize the popularity of iced tea within the United States. Iced tea is a form of tea that can be sweet, unsweet, or flavored and served over ice. Generally, black tea is used to create iced tea, but any form of tea can be used for a unique flavor combination.
Not only does sharing a cup a tea taste delicious, but it also encourages communication and community gatherings. As part of The Lily Program®, a 90-day treatment for women offered exclusively at Brookhaven Retreat, clients are encouraged to communicate with others during Afternoon Tea Time, usually held on Sunday afternoons. On June 12th, 2016, a special Peach-Thyme Iced Tea was served and the recipe was shared during Afternoon Tea Time. Clients enjoyed the refreshment of the tea, paired with casual conversations with peers. The recipe used for the Peach-Thyme Iced Tea is as follows:
Ingredients:

½ cup honey (plus 2 tbsp)
1 tablespoon chopped fresh thyme
8 cups water (2 cups at room temperature, 6 cups boiling)
10 regular-sized black tea bags
2 tablespoons fresh lemon juice
Thyme sprigs and lemon slices, for garnish
Preparation:
Place honey, chopped thyme, room-temperature water and 4 cups of the peaches in a pan. Cover and bring to a simmer over medium-high heat. Stir and reduce heat to low. Simmer, covered, stirring occasionally, for 30 minutes. Let cool completely, about 30 minutes. Pour mixture through a wire-mesh strainer, pressing solids to extract the juices.
Place tea bags and remaining 2 cups peaches in a 3-quart heatproof pitcher. Add boiling water; let steep for 15 minutes. Discard tea bags. Stir in lemon juice or peach syrup, if desired. Serve over ice. Garnish with thyme sprigs and lemon slices.
Clients will also be enjoying an iced tea tasting featuring three unique iced tea creations created by Brookhaven Retreat's Dietician, Charity Coyle, on Wednesday, June 15th in recognition of National Iced Tea Month.
About Brookhaven Retreat
Brookhaven Retreat is a women's treatment center nestled on a naturally beautiful 48-acre site secluded in the foothills of the Great Smoky Mountains. It has helped hundreds of women across the United States overcome depression, trauma, anxiety, substance use and a range of other behavioral health challenges. Brookhaven's Founder, Jacqueline Dawes, has predicated its gender-specific treatment on "healing emotional breakage" for women. In this way, she has established a sanctuary and a place where women can feel safe, secure and cared for by a staff of highly trained professionals.