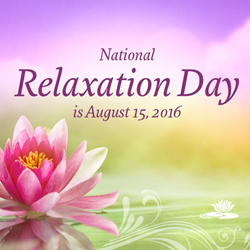 Knoxville, TN (PRWEB) August 16, 2016
Brookhaven Retreat®, LLC, a unique residential treatment facility exclusively for women with mental health and/or substance abuse issues, shared 5 Relaxation Tips with Clients for National Relaxation Day on August 15th.
National Relaxation Day is observed annually on August 15th. This is day was created as a reminder to take a break from the usual fast-paced and hectic lifestyles that are lived. Being able to take time to recuperate and rejuvenate the mind and body is essential to living a happy and healthy life.
As part of The Lily Program®, a 90-day treatment for women offered exclusively at Brookhaven Retreat, clients are continually encouraged to practice relaxation techniques and activities throughout treatment. Clients are offered art therapy, garden therapy, equine therapy, therapeutic outings, in addition too countless other opportunities throughout the program. A favorite among many clients is relaxation sessions provided by Stephanie Christian, Licensed Bodywork Therapist for Brookhaven Retreat. Stephanie offers head and neck massages, reflexology sessions, and exercise classes that focus on mindfulness and relaxation.
According to Stephanie, "Setting aside time for daily relaxation is essential for our well-being and longevity. It improves our mood and memory, keeps stress levels in check, and helps us sleep better. It even reduces our chance of physical illness in the long run."
Brookhaven Retreat recognizes the importance of adding relaxation to a daily routine. In recognition of this, Brookhaven Retreat shared 5 Relaxation Tips to clients on August 15th. Below are those tips:

Schedule a time to relax each day: Take a simple mini-vacation from everything and everyone and take a few minutes to chill each and every day and commit to it. A convenient time for this could be during a bedtime routine or in preparation for the day ahead.
Practice relaxation techniques frequently: Practicing deep breathing and progressive muscle relaxation on a frequent basis help to reduce stress and provoke relaxation more easily.
Nourish the body: The body and mind cannot function without proper nutrition. Fill up on premium nutrients through a balanced diet rich in vitamins and minerals.
Reach out to others: Share connections with others and talk on a regular basis. Just simply having someone to talk to and listen to can ease away stress and anxiety.
Listen to music: Music can change a mood in a matter of seconds. Music has been shown to lower blood press, decrease anxiety, and lower heart rate. Feel free to turn the radio up and sing and dance worries away.
About Brookhaven Retreat
Brookhaven Retreat is a women's treatment center nestled on a naturally beautiful 48-acre site secluded in the foothills of the Great Smoky Mountains. It has helped hundreds of women across the United States overcome depression, trauma, anxiety, substance use and a range of other behavioral health challenges. Brookhaven's Founder, Jacqueline Dawes, has predicated its gender-specific treatment on "healing emotional breakage" for women. In this way, she has established a sanctuary and a place where women can feel safe, secure and cared for by a staff of highly trained professionals.