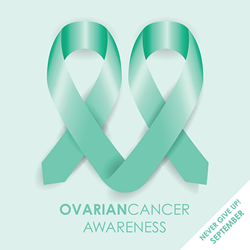 Knoxville, TN (PRWEB) September 03, 2015
Brookhaven Retreat ® LLC will recognize National Ovarian Cancer Awareness Month in September. Although many factors can increase a woman's risk for ovarian cancer, such as age, genetics and ethnicity, awareness can help either avoid it or detect it early for a more positive outcome.
Clients and staff members will have the benefit of in-house signage, information on the weekly newsletter on the subject, as well as posts on the Aftercare website meant for graduates of the 90-day program.
Everyone will be made aware that ovarian cancer is the fifth most common cancer in women. Each year, almost 22,000 women will be diagnosed with ovarian cancer. More than 14,000 women will die from it. A woman's lifetime risk of developing ovarian cancer is about one in 73. A woman's lifetime risk of dying from ovarian cancer is one in 100.
This cancer typically occurs in women in their 50s and 60s with the median age of 63. Many women who are diagnosed with ovarian cancer have a genetic history that may include carrying the BRCA mutation gene and having a strong family history of ovarian cancer.
Thankfully, we are making strides in the early detection, and according to the National Cancer Institute, fewer women are dying from it in recent years than in the past 20 years.
"It's so important to take care of ourselves and have regular physical exams," says Brookhaven Retreat's founder, Jacqueline Dawes. "We hope to find out that we are perfectly healthy and cancer-free, however, avoidance doesn't change our circumstances. If cancer is detected early there is a much better chance of survival. We teach women that self-care and mindfulness are habits that must be tended to daily when your goal is to create a life worth living."
About Brookhaven Retreat
Brookhaven Retreat is a women's treatment center nestled on a naturally beautiful 48-acre site secluded in the foothills of the Great Smoky Mountains. It has helped hundreds of women across the United States overcome depression, trauma, anxiety, substance use and a range of other behavioral health challenges. Brookhaven's Founder, Jacqueline Dawes, has predicated its gender-specific treatment on "healing emotional breakage" for women. In this way, she has established a sanctuary and a place where women can feel safe, secure and cared for by a staff of highly trained professionals.