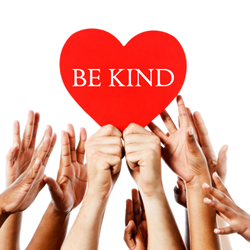 Knoxville, TN (PRWEB) February 16, 2016
Brookhaven Retreat ® LLC, a unique residential treatment facility exclusively for women with mental health and/or substance abuse issues, will offer clients suggestions for observing and celebrating Random Acts of Kindness Day on February 17, 2016.
A little kindness goes a long way among clients of Brookhaven Retreat, who may be tending to addiction, the post-traumatic stress of an abusive relationship, the loss of a loved one, mental illness or a variety of other possible difficult circumstances. Kindness on both the giving and receiving ends of the equation has the power to heal. The greater your kindness, the more profound your healing power will serve you and everyone around you.
According to the Huffington Post, an extensive scientific literature review sponsored by Dignity Health and conducted by the Center for Compassion and Altruism Research and Education (CCARE) at Stanford University reveals scientific evidence of kindness as a healing modality.
The Dignity Health/CCARE scientific literature review claims that patients treated with kindness, empathy, interest, communication and response to their needs, they experienced faster healing of wounds, reduced pain, reduced anxiety, lower blood pressure and shorter hospital stays.
The staff at Brookhaven Retreat suggests the following random acts of kindness:

Offer compliments to help others feel special and appreciated.
Be encouraging, knowing you're on similar paths to healing.
Respond when you notice someone in need of physical help.
Be a good and patient listener when talking with someone.
Use your own talents for someone else's benefit without asking anything in return.
"Whenever we are kind or gentle with others, it not only makes a difference in their lives, but it gives us an opportunity to exercise our strength, which in turn makes us stronger," says Jacqueline Dawes, founder of Brookhaven Retreat. "The best thing about kindness is the way it often immediately boomerangs back in our direction. Mindfulness sets kindness in motion and suddenly there is more than one life worth living in the making. It's a cycle that ripples and spreads. There is no shortage of rewards for kindness."
About Brookhaven Retreat
Brookhaven Retreat is a women's treatment center nestled on a naturally beautiful 48-acre site secluded in the foothills of the Great Smoky Mountains. It has helped hundreds of women across the United States overcome depression, trauma, anxiety, substance use and a range of other behavioral health challenges. Brookhaven's Founder, Jacqueline Dawes, has predicated its gender-specific treatment on "healing emotional breakage" for women. In this way, she has established a sanctuary and a place where women can feel safe, secure and cared for by a staff of highly trained professionals.