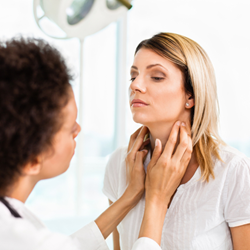 Knoxville, TN (PRWEB) January 13, 2016
Brookhaven Retreat ® LLC will educate staff and clients on the importance of Thyroid Awareness Month in January. An estimated 15 million Americans have thyroid issues that go undiagnosed.
The thyroid gland is a small, butterfly-shaped gland located in the base of the neck just below the Adam's apple. Although relatively small, the thyroid gland influences the function of many of the body's most important organs, including the heart, brain, liver, kidneys and skin. Thyroid awareness efforts were unified by the American Association of Clinical Endocrinologists (AACE) and the American College of Endocrinology when they introduced the paisley ribbon in 2012 as a symbol of thyroid awareness.
The American Cancer Society has posted Signs and symptoms of thyroid cancer on their website. It is best not to ignore any of the following symptoms that may be caused by thyroid cancer.

A lump in the neck, sometimes growing quickly
Swelling in the neck
Pain in the front of the neck, sometimes going up to the ears
Hoarseness or other voice changes that do not go away
Trouble swallowing
Trouble breathing
A constant cough that is not due to a cold
Preventive measures such as talking to your doctor about these symptoms could be the difference between life and death. Many of these symptoms can also be caused by non-cancerous conditions or even other cancers of the neck area. However, it is not uncommon to find lumps in the thyroid that are often benign. It is still a good idea to talk to your doctor and get treatment if necessary.
Throughout this month long campaign, says Jacqueline Dawes, Brookhaven Retreat's founder, "We will encourage both clients and staff to include routine screenings and preventative methods in their individual comprehensive health plans. It's wise to make routine appointments in advance, keep a calendar to reduce reasons to avoid missing checkups and make health a priority. Medical health is part of the complete recovery plan, so women are able to live healthier and more fulfilled lives."
About Brookhaven Retreat
Brookhaven Retreat is a women's treatment center nestled on a naturally beautiful 48-acre site secluded in the foothills of the Great Smoky Mountains. It has helped hundreds of women across the United States overcome depression, trauma, anxiety, substance use and a range of other behavioral health challenges. Brookhaven's Founder, Jacqueline Dawes, has predicated its gender-specific treatment on "healing emotional breakage" for women. In this way, she has established a sanctuary and a place where women can feel safe, secure and cared for by a staff of highly trained professionals.