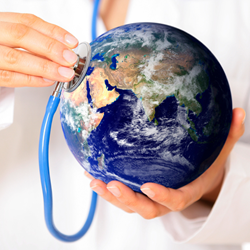 Knoxville, TN (PRWEB) April 12, 2016
Brookhaven Retreat ® LLC, a unique residential treatment facility exclusively for women with mental health and/or substance abuse issues, infused World Health Day into the program on April 7, 2016, to bring awareness about prevention and treatment for various health issues. This year's focus of World Health Day led by the World Health Organization (WHO) was diabetes.
According to the American Diabetes Association, doctors are just beginning to understand diabetes distress and how it affects health and well-being.
Diabetes is a chronic, metabolic disease characterized by elevated blood glucose which may over time lead to serious damage to the heart, blood vessels, eyes, kidneys, and nerves. The prevalence of diabetes has been steadily increasing in the past few decades, and can put a strain on mental health and cause anxiety and depression.
Brookhaven Retreat shared the following tips with staff members and clients about how to lower the risk for diabetes:

Stay at a healthy weight.
Be more physically active.
Choose to eat the right amount of healthy foods.
Consult with your doctor to check for an increased risk for developing diabetes.
Observed for the first time in 1992, World Mental Health Day began as an annual activity of the World Federation for Mental Health by the then Deputy Secretary General Richard Hunter. Since that time, it has become the largest and most widely promoted education and advocacy program of the World Federation for Mental Health.
Jacqueline Dawes, founder of Brookhaven Retreat, said, "Mental health concerns often stem from physical issues and require a look at a person's lifestyle and how both physical challenges and self-care are being managed. It's important not to ignore symptoms. Prevention is much simpler to manage than doing damage control. Much of our program focuses on the how-to aspect of self-care and how to create a life worth living."
About Brookhaven Retreat
Brookhaven Retreat is a women's treatment center nestled on a naturally beautiful 48-acre site secluded in the foothills of the Great Smoky Mountains. It has helped hundreds of women across the United States overcome depression, trauma, anxiety, substance use and a range of other behavioral health challenges. Brookhaven's Founder, Jacqueline Dawes, has predicated its gender-specific treatment on "healing emotional breakage" for women. In this way, she has established a sanctuary and a place where women can feel safe, secure and cared for by a staff of highly trained professionals.