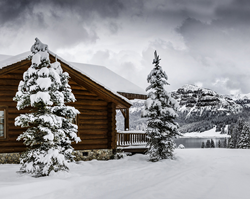 Brooks Lake Lodge offers the ultimate winter playground for snow enthusiasts.
DUBOIS, Wyo. (PRWEB) November 08, 2019
A "Story Book Lodge," a "Snowy Solitaire," a "Wintry Western Getaway," the "Best Place to Relax in Wyoming," a "Best All-Inclusive Resort in the U.S." and a "Bucket List Destination" – this is the recognition given by a variety of travel media to describe the experience at Brooks Lake Lodge & Spa. The all-inclusive guest ranch, located deep in the woods of the Shoshone National Forest, has announced it will open for the 2019/20 winter season on December 21. While Jackson Hole may be the most talked about Wyoming destination for winter travelers, the hidden historical gem of Brooks Lake Lodge is just an hour's drive away, perched lakeside at the base of scenic mountain ranges and offering its own remote wooded charms.
Preparing for a winter stay at Brooks Lake Lodge requires just a few things: warm, comfy clothes, a good pair of snow boots and that book that's been waiting months to be opened and read. Guests can leave behind the laptops and iPads and forget being attached to the cell phone all day; there is no cell service (though there is WiFi for those must-connect situations). Instead guests should be prepared to go off the grid to explore and play in Wyoming's magical winter wonderland and to relax in the comforts of the Old West meets New West rustic-luxe accommodations at Brooks Lake Lodge. Basically, guests can just dress for the occasion – be it active adventures in the mountains or a restful night of fireside dinner in the historic dining hall followed by drinks at the onsite Cowboy Bar – while everything else, including wallets, can stay in the suite as all meals are included in an overnight stay as are most activities.
Open for the winter season from late December to mid-March, Brooks Lake Lodge offers the ultimate winter playground for snow enthusiasts including world-class backcountry snowmobiling around the two million scenic acres of snowy wilderness to explore. Experts and novices are all welcome as there is a range of terrain to cruise and experienced guides to lead the tours. With an average of 400-600 inches of snowfall annually the conditions are notoriously impressive and have earned the lodge the name "a bucket list" for adventurous sled heads from American Snowmobiler magazine.
While snowmobiling may be the headlining act, the lodge offers many more ways to be entertained during a winter stay, including a guided snowshoe nature walk through the Shoshone National Forest admiring spectacular landscapes and spotting wildlife such as moose and bighorn sheep. Cross-country skiing is also an option with all the necessary gear available onsite to borrow. And for anglers, ice fishing is an ideal winter activity with the lodge providing everything needed from an ice hut, rod and reel, bait and hooks to hot coffee and snacks. Ice fishers can enjoy "catch and release" fishing or bring the prize back to the lodge where the chef can cook it up for an evening meal. And for the kids – or the kid at heart – as Park City Magazine put it, "extreme snow tubing is a must." Tubers are transported via snowmobile to the top of a large snow ridge before taking the ride down a long snowy slope. Repeat. Repeat.
Now back to the dining: after all the outdoor excitement, guests can refuel with the fine dining-meets-comfort food menu thoughtfully created by Brooks Lake Lodge's acclaimed Executive Chef Whitney Hall. Chef Whitney's hugely popular dishes include lunch items such as the Cub Creek Croquettes with fried grits, gruyere cheese and truffle aioli or the Buffalo Basin Sloppy Joe served on toasted garlic bread. For dinner, guests enjoy such options as honey-glazed duck breast with a persimmon and date chutney served with roasted Brussels sprouts and parmesan smashed Peruvian potatoes or roasted buffalo prime rib with a Wyoming Whiskey au jus horseradish whip, cream sautéed haricots verts and loaded mashed potatoes.
The lodge rooms and private cabins at Brooks Lake Lodge for couples feature king-sized, handcrafted lodgepole pine beds, crisp linens, goose down comforters and terry cloth spa robes. With a maximum of 36 people per night, each guest of Brooks Lake Lodge is a VIP and can expect superb customer service from the friendly staff. The relaxing onsite full-service spa provides complimentary use of the tranquility room, dry sauna, fitness room and an 11-by-17-foot hot tub overlooking Brooks Lake and the Pinnacle Buttes. Spa services are available for booking at an additional price.
Winter rates at Brooks Lake Lodge & Spa start at $465 per person per night and include all meals and activities (excluding some snowmobile fees), taxes and service charge.
About Brooks Lake Lodge & Spa
Brooks Lake Lodge & Spa, a nearly 100-year-old historic guest ranch near Jackson Hole, Grand Teton National Park and Yellowstone National Park, is located one mile from the North American Continental Divide, with views of the Pinnacle Buttes, Austin's Peak and Brooks Mountain. Surrounded by evergreen forests, wildlife and alpine Brooks Lake, the exclusive, all-inclusive Wyoming Rocky Mountain resort offers five-star service, luxury accommodations and gourmet dining. Named a 2019 Best All-Inclusive Resort in the U.S. by MSN Lifestyle, a 2018 Best Lake Resort by National Geographic Traveler magazine, a 2017 Western Landmark and hidden gem by Western Art & Architecture, a U.S. Rocky Mountain Stunning Inn & Lodge by Vacation Idea, a Top 10 Luxury Wildlife Lodge by Money Inc., Where to Go Off the Grid by the Travel Channel, and a Travel + Leisure Great American Lodge. For additional information and reservations visit http://www.brookslake.com or call 866.213.4022. Follow Brooks Lake Lodge on Facebook and Instagram.