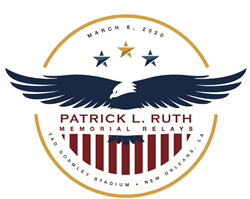 "Most area schools lack facilities and typically travel to participate in meets during the season. That drives up expenses and drives down participation," said David A. Ruth Sr.
NEW ORLEANS (PRWEB) March 02, 2020
Brother Martin High School and the Ruth family announced the inaugural Patrick L. Ruth Memorial Relays, which will take place on March 6, 2020, at Tad Gormley Stadium in New Orleans City Park. The Patrick L. Ruth Memorial Relays is a varsity high school boys and girls track and field meet in remembrance of Lt. Patrick L. Ruth, a fallen Navy pilot, veteran, and former track athlete.
March 6, 2020 will be the inaugural meet, enabling high school track and field programs from across the Southeastern region of Louisiana to compete in various events, including six field events and ten track events. Louisiana High School Athletic Association (LHSAA) sanctioned, all running events will feature Fully Automatic Time (FAT) measurement courtesy of Crescent City Timing Corp.
Tad Gormley is a first-class venue for all athletes who participate in throwing, jumping, pole vaulting, and running events. The stadium has served as an official Olympic trials venue. However, area schools are often unable to book such venues due to the high cost of operation. "Most area schools lack facilities and typically travel to participate in meets during the season. That drives up expenses and drives down participation," said David A. Ruth Sr., Patrick's father and event sponsor. In sponsoring this meet in Patrick's honor, the Ruth family is underwriting the entire operational expense of the venue and hopes to establish funding of these expenses in years to come. Area schools that participate will benefit by reducing the costs and risks of team travel for a competition-level event.
"Track and field ought to be fun. It gives a lot more opportunities for student athletes to participate than other sports. Our son Patrick enjoyed competition but always prioritized fun. In that spirit we plan to bring a few fun things to this event in his honor," said Mr. Ruth. "We anticipate a surprise feature or two to make it interesting and fun for everyone."
Guests and spectators can also expect to show their patriotism. Before the start of running events, there will be a formal Presentation of Colors by the Brother Martin High School Navy JROTC color guard and the national anthem performed by the Brother Martin Alumni Quartet. Midshipmen representing Tulane University Navy ROTC will also be in attendance. In addition to Brother Martin High School and Crescent City Timing, other supporting organizations include The Wingman Foundation and Search Influence.
For those who are interested, more information about the Patrick L. Ruth Memorial Relays is available online. Prior to the event, the Ruth family will begin a fundraising campaign to fund operational expenses of future years to provide area schools and their athletes with the opportunity to compete in a quality venue and a fun environment. Anyone interested in supporting this event through tax deductible donations or charitable contributions can do so at the Patrick L. Ruth Memorial Relays fundraising page on Fundly. Crescent City Timing is authorized to receive contributions.
About Lt. Patrick L. Ruth
Patrick L. Ruth, a Brother Martin High School 2004 alumnus, was a proven leader and scholar athlete. As a sprinter he successfully defended his District 9-5A title as 110M Hurdles Champion and competed in individual Sprints and Relays throughout his high school career. In 2008 Lt. Ruth commissioned through the US NAVY ROTC at Tulane University where he received a full academic scholarship. As a Naval Aviator he deployed with Squadron VAW-126 Seahawks aboard the USS Harry S. Truman in support of Operation Enduring Freedom. Upon his return as an Instructor Pilot, he trained future naval aviators at Naval Air Station Meridian with USN Training Squadron SEVEN (VT-7) until he and student Lt. JG Wallace Burch were killed during a low-level training mission in the Cherokee National Forest after their T-45 Goshawk jet crashed in 2017. Patrick was 31 years old.
Founded in 2007, Crescent City Timing Corp. is a non profit event and race management company that provides customized timing solutions for cross country, track and field, and road racing events. By using cutting-edge sports timing technology, Crescent City Timing facilitates events at all levels of competition. Crescent City Timing operates in New Orleans and the surrounding region.