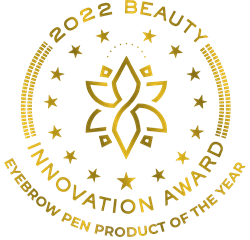 The Microblade Pen is our best-selling product because it gets you flawless brows in a matter of seconds. It's my mission for my clients to become their own brow expert - Reema Khan, founder and CEO of Brow Bar By Reema
LOS ANGELES (PRWEB) November 29, 2022
The Beauty Innovation Awards Program, the industry's most robust recognition platform for the innovators and leaders of the Beauty industry, today announced that the Microblade Pen from Brow Bar By Reema, threading and shaping brows of every shade all over the world for the past 24 years, has been awarded "Eyebrow Pen Product of the Year" in the 2022 Beauty Innovation Awards Program. This awards program aims to evaluate and recognize the most outstanding and innovative companies, services, and products revolutionizing and advancing the Beauty industry through goods, services, and technology.
The Microblade Pen is an ergonomically designed brow product with four micro points to draw perfection. The pen mimics the look of actual brow hairs to create a beautiful microblade effect without an actual blade. The product is both lightweight and waterproof in order to produce the ultimate natural look.
Users are able to define their brows into natural hair strokes with a hint of tinted color, following their natural shape. The pen comes available in three shades of light, medium, and dark.
"I'm honored to accept this award from Beauty Innovation. The Microblade Pen is our best-selling product because it gets you flawless brows in a matter of seconds. It's my mission for my clients to become their own brow expert," said Reema Khan, founder and CEO of Brow Bar By Reema. "I always say that eyes may be the windows to your soul, but our brows tell the world what we're really thinking. Brows are front and center in all our conversations. This product makes it easy for clients to shape their own brows and stand out."
As part of the Independent Innovation Awards organization, the mission of the Beauty Innovation Awards is to celebrate and highlight the efforts and success of innovators and leaders in the Beauty industry. Built to recognize the most outstanding companies, services and products within the rapidly expanding Beauty industry, the awards recognize a range of beauty industry categories, including Bath & Body, Hair, Skin, & Mens Grooming and more. The 2022 Beauty Innovation Awards attracted over 2500 nominations from around the world.
"Women go to great lengths to obtain the perfect brow. From brushing, plucking, waxing, trimming, and - ultimately filling in and shaping - these sometimes painful techniques can irritate and ultimately damage the natural brow. Every brow is unique and deserves that type of approach," said Travis Grant, Managing Director, Independent Innovation. "Reema Khan's Microblade Pen is a breakthrough product that allows users to individualize the look of their brows while creating an incredibly natural look at the same time. Whether you're going for incredibly thick or somewhere in between, this product is our pick for 2022's 'Eyebrow Pen Product of the Year!' Congratulations!"
Reema Khan, founder, is a trailblazing immigrant woman who has brought her ancient brow technique of threading stateside - and changed an entire generation's approach to getting the perfect brows. Khan has single-handedly built the Brow Bar by Reema empire with 75 salons located from India to the Pacific, to New York, California and beyond.
####
About The Beauty Innovation Awards
Part of Independent Innovation Awards organization, a global market intelligence and recognition program within the most competitive consumer categories, The Beauty Innovation Awards honors the most outstanding and innovative companies, services, and products within the rapidly expanding Beauty industry. The Beauty Innovation Awards provides public recognition for the achievements of beauty industry companies and products including Bath and Body, Make-up, Skin, Retailers and Services, and more. For more information visit: http://www.beautyinnovationawards.com.
About Brow Bar By Reema
Brow Bar specializing in eyebrow shaping, waxing, makeup and more. Reema Khan built an empire on brows -- seventy-five salons, one million customers -- in Europe and right here in the USA. Reema re-introduced the centuries-old art of threading, a craft handed down through generations of her Indian ancestors and watched its popularity explode throughout the nation. A flawless brow says it all, and Reema, Queen of Brows, has brought her timeless beauty secrets to the heart of Hollywood and started a mini-revolution in the world of brow and beauty products.