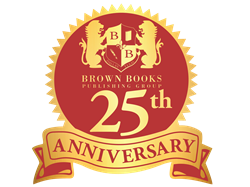 I am honored and proud of the unique culture that we have established at Brown Books. -Milli Brown, CEO and founder of Brown Books
DALLAS (PRWEB) April 11, 2019
Brown Books Publishing Group, a Dallas and New York based independent book publishing company known for top-selling authors and award-winning books, announces its inclusion in the 2019 Publishers Weekly list of "Fast-Growing Independent Publishers." This is the second consecutive year that the company has made the reputable list.
The Fast-Growing Independent Publishers list is compiled through industry research across the country and comprised of companies with a minimum three years of operating history, along with a minimum sales requirement in order to be considered.
"I am honored and proud of the unique culture that we have established at Brown Books. Our entire staff delivers remarkable results while giving personal attention to each and every author that we work with," says Milli Brown, CEO and founder of Brown Books Publishing Group. "We are grateful that Publishers Weekly once again has recognized us on the Fast-Growing Independent Publishers list and values what we do daily: bring recognition, innovation and success to our authors."
"As a 33-year veteran of the industry who has worked at Big Five publishers and other global media companies, I can comfortably say that our list and authors compete with anyone's," said Tom Reale, president and COO of Brown Books Publishing Group. "Five years ago, we were 'the little engine that could.' Now we're a big, powerful independent sales engine."
Some noteworthy company best sellers include "The 10 Pillars of Wealth: Mind-Sets of the World's Richest People" by celebrity author Alex Becker, "Unconquered: The Saga of Cousins Jerry Lee Lewis, Jimmy Swaggart, and Mickey Gilley" by J.D. Davis and "Hold Texas, Hold The Nation: Victory or Death" by retired lieutenant colonel and former congressman Allen B. West.
Dallas, Texas, based Brown Books Publishing Group is celebrating its 25th year of operation and has recently expanded to New York.
About Brown Books Publishing Group
Brown Books Publishing Group (BBPG) is a full-service independent publisher committed to producing high-quality, award-winning books of all genres for authors who choose to retain the rights to their intellectual property. Founded in 1994 as an Entrepreneurial Publisher for Entrepreneurial Authors®, BBPG's innovative Relationship Publishing™ model ushered in A New Era in Publishing™. Providing ghostwriting, editing, design, printing, warehousing, distribution, marketing, public relations and website development for books of all genres, the company has cultivated a prestigious stable of authors, from New York Times bestsellers to Pulitzer Prize finalists and more. Personal relationships with each client are the cornerstone of BBPG's publishing.
The Agency at Brown Books (ABB) is backed by more than 20 years of publishing excellence, and the firm is the first full-service public relations, marketing, branding and distribution provider within a publishing house. Offering a one-of-a-kind lifeline that delivers the vital resources needed to optimize performance in today's marketplace, ABB works with BBPG authors as well as nonaffiliated authors, established writers, entrepreneurs, CEOs and those seeking smarter strategies for building their business. With ABB's end-to-end, integrated strategy, authors gain a platform to make an impact – and a difference.