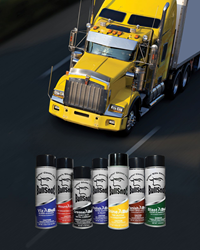 "Although the products were engineered for truckers, the products' performance has been widely recognized in other markets such as automotive, farming, and boating," says Vann Brown, CEO of Brown Ox Ventures
DALTON, Ga. (PRWEB) February 01, 2021
Brown Ox Ventures announced today that its BullSnot! line of automotive products will be distributed nationwide by Lynco Products.
Brown Ox Ventures is a chemical company that manufactures a complete line of aerosol products under the BullSnot! brand that was developed specifically to address the needs of the 3.5 million truck drivers across the USA. According to Vann Brown, CEO of Brown Ox Ventures, "Although the products were engineered for truckers, the products' performance has been widely recognized in other markets such as automotive, farming, and boating." There are currently seven products in the BullSnot! herd:

VizABull Glass Cleaner
BlastABull Odor Eliminator
GreaseABull Heavy-Duty Metal Lubricant
ShineABull Tire Butter and Conditioner
MountABull Tire Mounting Lubricant
VanishABull Carpet Spot Cleaner
PolishABull Detail Polish and Cleaner
Lynco Products will distribute the BullSnot! product line to the over 3,000 corporately owned and independent truck stops nationwide. Truck drivers have been vocal in their desire to have BullSnot! at truck stops for immediate purchase. Brown Ox Ventures and Lynco Products listened. BullSnot! customers demand convenience and instant product purchase ability. All BullSnot! products were designed from numerous conversations with professional truck drivers and specifically formulated to meet their needs.
Lynco Products, which has an extensive track record in introducing new products to market, recognized the demand and agreed to distribute BullSnot! nationally. Lynco Products was established in 2002 and has garnered an impressive track record in servicing retailers big or small in Convenience & Travel, Car Washes, Grocery & Drug, Farm & Hardware, and Mass Retail. Lynco Products thrives with product scale, industry knowledge, and unmatched marketing capabilities. Spaces large and small need a balanced mix of high-traffic products and the category managers at Lynco are experts at driving in-store sales. Lynco Products is recognized as the go-to source for the latest market trends in regard to quality, function, and design. Brown Ox Ventures is proud to have the BullSnot! herd as part of the Lynco Products family.
Contact your local Lynco Products account representatives in the continental United States and Canada to find out more about adding the herd of BullSnot! products to your shelves.
About Brown Ox Ventures
Founded in 2005, Brown Ox Ventures is a chemical company that manufactures an extensive line of automotive aerosol products under the BullSnot! brand. The family of BullSnot products was initially developed specifically for the trucking industry. Through innovation and bold leadership, these products are now gaining recognition in other markets such as automotive, farming and boating. The BullSnot! products have seen great success on Amazon and are now available through other retailers. Brown Ox is driven by commitment to bring the best, high performance products to the market without ever sacrificing value. For additional information about BullSnot! products, please visit http://www.brownox.com or follow Brown Ox Ventures on Twitter, LinkedIn, Instagram and Facebook.
MEDIA CONTACT:
Vann W. Brown, CEO
Brown Ox Ventures, Inc.
P.O. Box 913
Dalton, GA 30722
(706) 409-0303
http://www.brownox.com